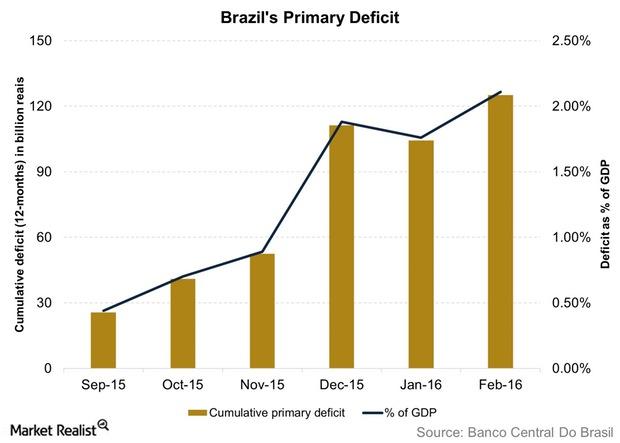 Fiscal Woes Have Plagued Brazil
By David Ashworth

Apr. 5 2016, Published 12:47 p.m. ET
Primary budget balance
Brazil's fiscal woes have just worsened. A release from Banco Central do Brasil, the nation's central bank, showed that the country's cumulative primary deficit stood at 125.1 billion reais in the 12-month period ended February 2016. This was a record 2.11% of the country's GDP. Brazil's public sector net debt rose to 2,186.8 billion reais in February, equivalent to 36.8% of the country's GDP.
The primary reason for this surge in the primary deficit is that government revenue has continued to shrink due to the poor shape of the economy. At the same time, government expenses have continued to rise, resulting in a double whammy for the country's budget. Tulio Maciel, head of the central bank's economic research department, noted that expenses have been rising at a rate of 12%–13% a year.
The primary deficit figure assumes importance because it is the main indicator of Brazil's fiscal state and displays its ability to fulfill its debt obligations. Due to this, the figure becomes important for Brazil's credit rating as well.
Article continues below advertisement
Risk-on sentiment prevails
Even with the primary deficit surging, Brazil's stocks (SQM) (ITUB) (LFL) and the real continue to rise. It seems that the worse the news is for Brazil, the better investors are reading it—it gives them hope that the news will add to President Dilma Rousseff's woes and potentially lead to her impeachment. The desire to see her go is overshadowing the country's market fundamentals.
This situation is quite explosive. Desires driving a market don't last very long and whether she is impeached or not, the rally should give way to economic fundamentals. If she is not impeached, investors could dump risky assets and the real could plunge. If she is impeached, the rally may last a bit longer, but a pullback seems likely given the precarious position the Brazilian economy finds itself in.
At this juncture, investors invested in the region could prefer passive funds (EWZ) over active ones (JLTAX), given that passive funds can be sold more quickly. This is because they are exchange-traded funds and have lower fees as compared to active funds.
The primary deficit is not Brazil's only concern, though. Inflation presents a significant concern, and the country's central bank did not have good news on that front. Let's look at that in the next article.