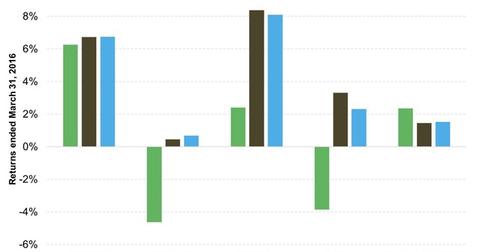 FBGRX's Infotech Picks Surprise on the Downside in 1Q16
By David Ashworth

Updated
Performance evaluation of the Fidelity Blue Chip Growth Fund
The Fidelity Blue Chip Growth Fund (FBGRX) fell 4.6% in 1Q16, making it a below-average performer among the 12 funds in this review. Its one-year returns were -3.9%, placing it among the bottom three funds.
Meanwhile, from the end of December 2015 until April 20, 2016, the fund rose 2.3%. We've graphed its performance against two ETFs: the iShares S&P 500 Growth ETF (IVW) and the iShares Russell 1000 Growth ETF (IWF). Let's look at what has contributed to the fund's below-average performance in 1Q16.
Article continues below advertisement
Portfolio composition and contribution to returns
Stock picks from the healthcare sector were primarily responsible for FBGRX's poor showing in 1Q16. Regeneron Pharmaceuticals (REGN), Allergan (AGN), and Celgene (CELG) contributed the most to the sector's fall. No significant positive contributors reduced the drag on the sector.
Information technology, the sector in which FBGRX invests the most, was the second-largest negative contributor to its total returns in 1Q16. Class A shares of LinkedIn (LNKD), Fitbit (FIT), and Activision Blizzard (ATVI) were the primary detractors. Though Facebook (FB) did quite a bit to reduce the drag, it didn't have much help. This resulted in negative contribution from the sector.
Consumer staples was a sizable positive contributor to FBGRX, helped primarily by the Coca-Cola Company (KO). Energy was the only other sector that contributed positively in the period, though the amount was quite small.
Comparison with IVW
FBGRX underperformed IVW in terms of total returns in 1Q16. Though the passive fund's picks from the healthcare and consumer discretionary sectors contributed negatively to its returns, the damage was far less than the negative contributions from FBGRX's sector picks. All other sectors contributed positively to IVW's returns.
Investor takeaway
FBGRX's picks from the information technology sector disappointed. They contributed negatively to the fund's returns, vastly underperforming IVW. The fund's large number of holdings were of little use, as all but two sectors had a hard time during the period.
Investors should see whether the fund manager's picks have worked in different business cycles before deciding the fates of their allocations to the fund. The fund had had a below-average 2015. Depending on your investment horizon, it may be time to reassess your holdings.
In the next article, we'll look at the historical portfolios of the Fidelity Growth Company Fund (FDGRX).