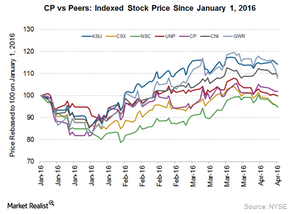 What to Expect from Canadian Pacific's 1Q16 Results
Canadian Pacific's 1Q16 earnings
Canadian Pacific Railway (CP) will report its 1Q16 financial and operating results before the US market opens on April 20, 2016. The earnings will be for the quarter ended March 31. The company will hold a conference call with securities analysts and institutional investors on the same day.
Article continues below advertisement
Proposed acquisition of Norfolk Southern
Since November 2015, CP has made three offers to Norfolk Southern (NSC). NSC's management has rebuffed the offers. Many logistics industry veterans have opposed CP's interest in NSC. The latest opposition came from FedEx (FDX), which openly echoed concerns about the proposed combination.
The US military also opposed a partnership between CP and NSC on April 8, 2016. Even the US Department of Justice resisted CP's efforts to acquire NSC. CP's stock closed up by 3.7% on April 8.
The first quarter rally
Since the beginning of February 2016, rail stocks have seen strong price movement, and Canadian Pacific is no exception. Signs of a rise in fuel prices coupled with slightly improved manufacturing sentiments in the US-led rally are driving the price movements. CP has delivered a return of barely 2% since the beginning of 2016. In comparison, its peers have had the following returns in the same period:
CP's primary competitor, Canadian National (CNI), returned 9.7%.
Kansas City Southern (KSU) delivered the best returns of 14.2% among the peer group.
CSX (CSX) fetched a return of 5.1%.
CSX's arch-rival, NSC, returned 5.3% to investors.
Major western US carrier, Union Pacific (UNP), was almost flat.
Genesee & Wyoming (GWR) returned 7.8%.
Investors interested in rail stocks can consider the iShares Transportation Average ETF (IYT). Major US railroads make up 20.7% of IYT.
Canadian Pacific is taking every step to improve the bottom line either through cost curtailment or monetization of the real estate properties. The company is eyeing double-digit EPS (earning per share) growth in 2016.