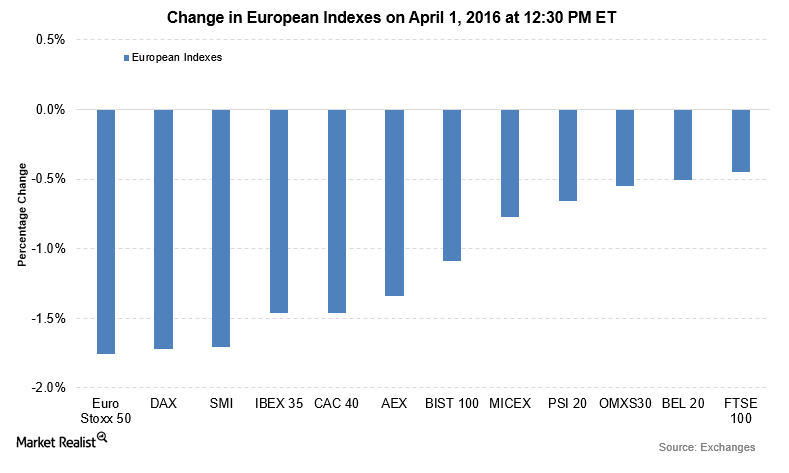 Why European Indexes Fell despite a Decent PMI Release
European indexes continue to slide
Critical European indexes (DBEU) continued their downward trajectory on April 1, 2016. The European indexes (HEDJ) had a weak opening as they seemed to follow the Asian markets, which were also on a Japan-led downslide.
The SPDR Euro Stoxx 50 ETF (FEZ) was trading 1.8% lower. The German DAX and French CAC 40 traded 1.7% and 1.5% lower, respectively.
Among the other major European indexes (IEV), the Portugal PSI 20 Index fell by 0.66% while the Belgium BEL 20 index fell by 0.51%. In non-Eurozone markets, the losses were less compounded as the United Kingdom's (FKU) FTSE 100 and Sweden's (EWD) OMX Stockholm 30 fell by 0.45% and 0.55%, respectively.
Article continues below advertisement
Eurozone PMI beats forecasts but major countries still stutter
Markit published the Eurozone final manufacturing purchasing manufacturing index (or PMI), which came out at 51.6, slightly above the forecast of 51.4. The investors seemed not to take much encouragement from the data since the rise was significantly smaller than the rise in PMI in the smaller Eurozone economies.
Ireland, the Netherlands, and Italy posted the strongest rise as their PMI readings were 54.9, 53.6, and 53.5, respectively. In contrast, the two biggest Eurozone economies—Germany and France—were among the lowest in terms of PMI at 50.7 and 49.6, respectively.
Mixed PMI release from the UK and Switzerland
Markit's UK manufacturing PMI remain subdued in March as it came out at 51.0 against the forecast of 51.4. The report suggested that March marked the third consecutive month in which manufacturing jobs have fallen. The new exports also fell for the third straight month as investment goods sector had the largest decline. Published by Procure, the Swiss PMI was at 53.2, which was well above the forecast of 51.3.
In the next part of the series, we will look at how the Asian markets fared on Friday, April 1, 2016.