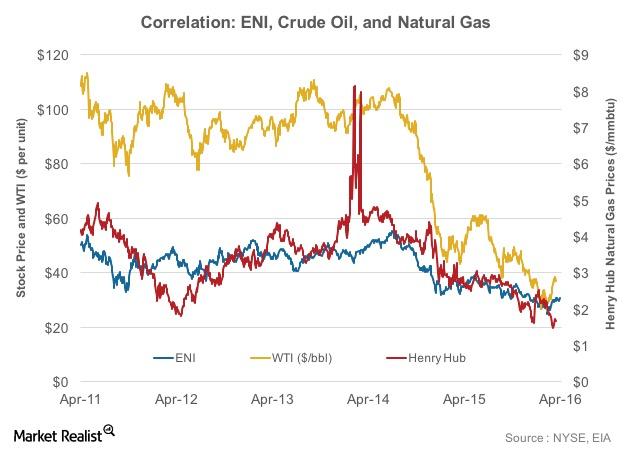 Do Eni's Stock and Oil and Natural Gas Prices Correlate?
By Maitali Ramkumar

Apr. 20 2016, Updated 5:04 p.m. ET
What is a correlation coefficient?
In this series, we've analyzed Eni's (E) stock movements, business segments, leverage position, and cash flow strategy. We've also discussed likely reasons for Eni's trading at a discount to historical valuations, and we've examined how the company is positioned compared to its peers.
In this part, we'll take a look at the correlations among Eni's stock, crude oil, and natural gas prices.
We've considered the past 12 months' price history of Eni, WTI (West Texas Intermediate), and Henry Hub natural gas prices. To analyze the relationship among these equities, it's imperative to understand the concept of the correlation coefficient, which shows how strongly two variables are related to each other.
The value of a correlation coefficient varies from -1 to 1. A value of between 0 and 1 indicates a positive correlation. A value of 0 indicates no correlation, and a value of -1 to 0 indicates an inverse correlation.
Article continues below advertisement
Eni and oil and natural gas prices
Eni is insulated to a certain extent from oil price volatility due to its integrated model. However, the company is not immune to changes in oil prices. This is reflected in the correlation coefficient of Eni's stock with WTI, which stands at 0.60. This implies that an average of 60% of Eni's stock price movement can be explained by changes in WTI's price.
Peers Statoil's (STO), Cenovus Energy's (CVE), and Imperial Oil's (IMO) correlations with WTI are even higher, at 0.67, 0.65, and 0.70, respectively. Eni's correlation coefficient with Henry Hub natural gas stands at 0.13.
The Vanguard High Dividend Yield ETF (VYM) has ~10% exposure to energy sector stocks.