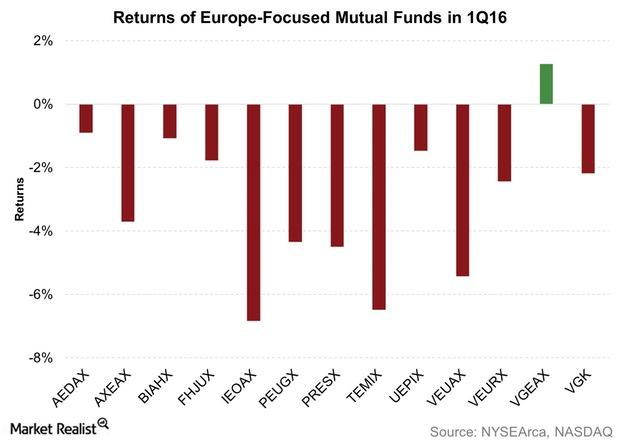 Draghi on ECB Stimulus and Brexit: Are Volatile Times Ahead?
By David Ashworth

Apr. 28 2016, Published 4:32 p.m. ET
Draghi defends ECB stimulus
Mario Draghi, president of the ECB (European Central Bank), has been facing criticism, especially from German officials. The criticism involves the effectiveness of ECB stimulus measures under his leadership. It also stems from the argument that low interest rates have hurt individuals saving for their retirement since returns have diminished. Draghi defended the measures by claiming they need time to work and show their full effect. He added that policymakers will act further if they think the region requires additional help.
Draghi made this statement after the ECB's April meeting in which the central bank decided not to add to its stimulus measures announced in March 2016. Inflation in the Eurozone (IEV) (HEDJ) (DBEU) refuses to grow, and the ECB is targeting inflation below but close to 2% per annum.
Article continues below advertisement
ECB to buy corporate bonds
Policymakers didn't add further stimulus in the ECB's April meeting. But they did decide to begin buying corporate bonds in June 2016. Christened the "corporate sector purchase programme" (or CSPP), it's aimed at improving the pass-through of bond purchases by the central bank. Currently, the ECB purchases bonds worth 80 billion euros from banks every month. It will purchase bonds of non-bank corporates through six national central banks of Europe.
Draghi says Brexit impact will be limited
A major issue facing the Eurozone is the possibility of a Brexit, or Britain (EWU) exiting the European Union. The referendum to determine whether Britain leaves or not will take place on June 23, 2016.
Draghi believes that if Britain does decide to exit, its impact on the economic recovery of the Eurozone will be limited. However, he did say that Market volatility will continue in the run-up to the referendum.
According to the Number Cruncher Politics Referendum Forecast, the probability of Britain exiting the European Union fell to 20% on April 21, 2016.
Impact on Europe-focused mutual funds
Volatility has been widespread in 2016. Given the above information, volatility can certainly be expected to be around European financial markets in at least the first half of the year.
In this series, we'll look at how 1Q16 panned out for Europe-focused mutual funds (IEOAX) (UEPIX). Our analysis of 12 of these mutual funds won't be confined to return performance, however. We'll look in depth at the portfolios of these funds and conduct attribution analysis to see which sectoral or stock picks helped or hurt a fund. We'll also compare active funds' performances with passive ones.
We'll begin our analysis with the Invesco European Growth Fund – Class A (AEDAX).