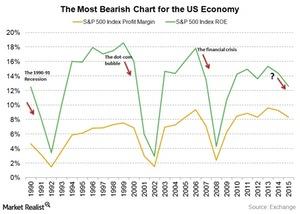 Does Falling Corporate Profitability Signal a Recession?
By Surbhi Jain

Updated
What does falling corporate profitability signal?
The falling profitability of US companies has Joe LaVorgna, chief US economist for Deutsche Bank Securities, feeling a bit pessimistic about the economy.
According to LaVorgna, in a worst-case scenario, the United States could see a recession in a few months. In a note to clients, LaVorgna pointed to waning corporate profit margins on a per-private-worker basis as good indicators for his belief.
LaVorgna explained that the historical average and median lead times between a peak in profit margins and the onset of a recession have been eight and nine quarters, respectively. By this math, the United States (IWM) (QQQ) has a chance to enter a recession in the second half of 2016.
"Margins always peak ahead of recession," LaVorgna added. Profit margins peaked during the third quarter of 2014, and they've been steadily falling since.
Article continues below advertisement
The link between profit margins and recessions
"The link between profit margins and recessions is strong," said Jonathan Glionna, head of US equity strategy research at Barclays (BCS).
Investment baron Jeffrey Gundlach of DoubleLine Capital also sees corporate profitability as an economic indicator. At a conference, he presented a chart he called "the most bearish chart for the U.S. economy."
Showcasing the trend in the S&P 500's (IVV) (SPY) (VOO) earnings growth, he highlighted that the dips in the S&P 500's profit margin and ROE (return on equity) have either coincided with or led to the 1990–1991 recession, the dot-com bubble, and the financial crisis. We're currently seeing these two parameters heading toward a similar dip.
Does the labor market's tightening signal something?
With the labor market's tightening, we're also seeing workers' shares of profits rising. When workers' shares of profits rise substantially, the business cycle is usually nearing its end. This supports our inference that we may be at the end of the current business cycle.