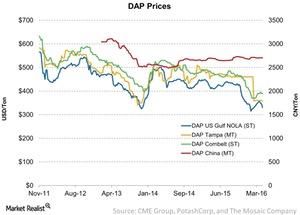 DAP Prices in China Inch Down for the Week Ended April 15
By Adam Jones

Updated
DAP prices
Previously, we saw how prices of ammonia and hydrogen sources such as natural gas and coal have moved. Ammonia is also used to make phosphate fertilizers such as DAP (diammonium phosphate) and MAP (monoammonium phosphate).
So, ammonia and natural gas prices also impact phosphate fertilizer producers such as Mosaic (MOS), Israel Chemicals (ICL), and PotashCorp (POT). Now, let's look at phosphate fertilizer prices.
Ammonium phosphates are the most widely used phosphate fertilizers globally. DAP is used the most in phosphate fertilizers, according to Mosaic. The VanEck Vectors Agribusiness ETF (MOO) invests about 2.9% of its portfolio in Mosaic and 3.8% in Agrium (AGU).
Article continues below advertisement
Diammonium phosphate
For the week ended April 15, 2016, the average price of DAP in the Cornbelt remained unchanged at $353 per metric ton ($390 per short ton) from the previous week. DAP's average price in China declined to 2,700 Chinese yuan per metric ton, or $416 per metric ton.
The average realized price for DAP at Port Tampa Bay declined slightly to $359 per metric ton compared to $360 per metric ton in the previous week.
The average DAP price at US Gulf NOLA (New Orleans) for the week ended April 15 fell by 1% to $300 per metric ton ($331 per short ton). This compares to $304 per metric ton ($336 per short ton) in the previous week.
Supply side
Mosaic is one of the largest producers of DAP. It has been converting its DAP facilities to its MicroEssentials products. According to the company, these products command higher premiums. Mosaic's management says that MicroEssentials products generate $40 more in revenue per unit compared to DAP.
In the next part of this series, we'll turn our attention to the second-most important phosphate fertilizer: MAP.