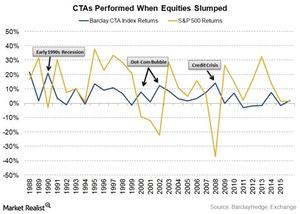 Why Commodity Trading Advisors Fare Well When Nothing Else Works
By Surbhi Jain

Nov. 20 2020, Updated 4:46 p.m. ET
Money isn't yielding anything
In the current Market environment, one really needs to dig deeper for investment strategies that could work. We're in a situation where money just doesn't yield anything. All developed market (EFA) (VEA) sovereign debt currently carries a near-zero or negative yield, and 40% of it is in the negative territory. On the other hand, emerging market debt (EMB), which seems to offer very attractive yields, is extremely risky at present. Both Brazil (EWZ) and Russia (RSX) currently have a junk rating by all major credit rating agencies including Standard & Poor's, Moody's, and Fitch Ratings.
Article continues below advertisement
Equity also doesn't seem to be yielding much. The US benchmark S&P 500 Index-tracking SPDR S&P 500 ETF (SPY) has fallen 0.5%, the European (FEZ) market has fallen about 18%, the Japanese (EWJ) market has shed over 13%, and the emerging markets (EEM) have fallen 18% over the past year, as of April 3.
Why CTAs are gaining importance
In such times, investors often turn to hedge funds to generate at least some gains. Hedge funds use strategies designed to make use of any opportunity that the Market may offer, such as translating arbitrage opportunities into investor returns. However, when the markets are volatile and require immediate action as opposed to a wait-and-watch approach, CTAs (commodity trading advisors) gain importance. CTAs offer diversification benefits (commodity exposure when the equity markets are down), along with liquidity. This is why CTAs perform well when equity slumps.
CTAs work when nothing else does
However, investors must bear in mind that these funds generally take speculative positions in derivative securities such as futures and options and engage in short selling, thereby increasing the leverage—and thus the overall risk—of the investment.
Considering the current Market and economic conditions, CTAs may be a viable option, as they tend to work when nothing else does. Moving forward in this series, we'll take a look at the best-performing CTA strategies so far in 2016. We'll also investigate what has led to such a strong CTA performance, which should help you assess whether this performance will continue as we move forward in 2016.