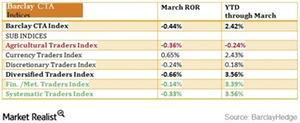 Metals Lead, Agriculture Lags, and Diversification Is Key
By Surbhi Jain

Apr. 13 2016, Updated 11:54 a.m. ET
CTAs are outperforming other fund strategies
So far in 2016, CTAs (commodity trading advisors), or managed futures, have been outperforming most other fund strategy categories. With a ~2.4% YTD return (as of March 31), the Barclay CTA Index has outperformed the Barclay Hedge Fund Index, which has risen 0.78% over the same period. From the Hedge Fund Research index stable, the HFRX Macro: Systematic Diversified CTA Index has already pocketed a 3.6% return YTD, as of April 1.
Article continues below advertisement
Diversification remains key
Gains made by the Barclay CTA Index so far this year can be attributed to the Systematic Traders subindex, the Diversified Traders subindex, and the Financial and Metals Traders subindex (see chart above). Within the CTAs, traders who are diversified or systematic are leading the race.
CTAs offer the essential diversification that investors seek in the current Market environment. However, programs managed by CTAs often require high minimum investments and risk. We now have "smart beta" or "alternative" funds, which reflect CFA programs' active investment style in a more accessible way.
Metals are leading, agriculture is lagging
Traders in financials (XLF) and metals (GLD) have also scored well so far this year. The HFRX Macro: Commodity-Metals Index rose 6.5% in 1Q16. The Vanguard Precious Metals and Mining Fund (VGPMX) has risen 27.8% YTD (year-to-date), as of April 5. Both the Tocqueville Gold Fund (TGLDX) and the First Eagle Gold A Fund (SGGDX) have risen over 32% YTD. On the other hand, agriculture is still lagging. The HFRX Macro: Commodity-Agriculture Index has lagged behind with a 2.3% return in 1Q16.
In the next part of this series, we'll discuss the volatility strategy that hedge funds adopt to translate market volatility into portfolio returns.