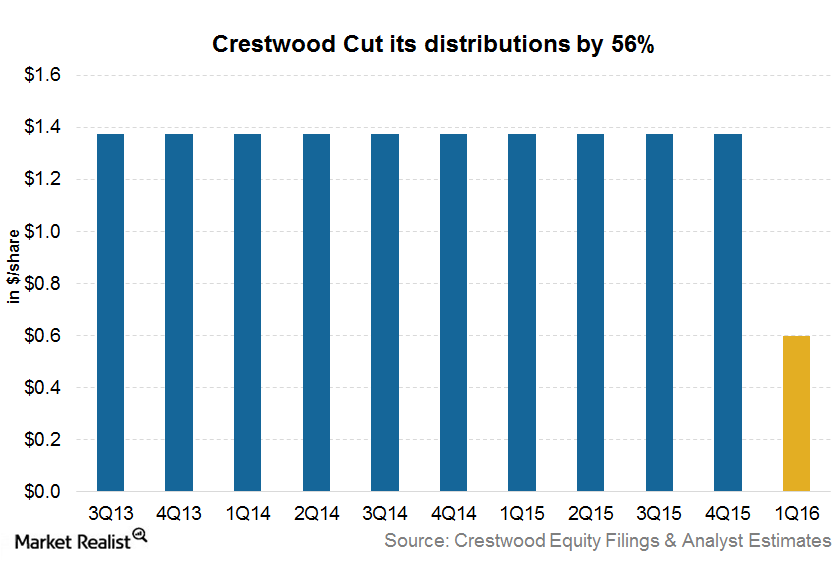 Why Crestwood Rallied Despite Distribution Cuts and Lower Guidance
By Kurt Gallon

Aug. 18 2020, Updated 5:28 a.m. ET
Crestwood Equity's 1Q16 distribution
Crestwood Equity Partners (CEQP) announced a quarterly distribution of $0.6 per unit in a press release published on April 21. This represents a 56% cut in quarterly distribution compared to the 4Q15. The distribution cut, along with the joint venture proceeds, is expected to strengthen CEQP's balance sheet.
In so doing, CEQP has joined Kinder Morgan (KMI), Boardwalk Pipeline Partners (BWP), and Teekay LNG Partners (TGP)—the other three midstream companies that have cut their per-unit distribution in the past.
Based on this 1Q16 distribution, the partnership's distribution yield has dropped significantly, from over 60% to 13.2%. The above graph shows CEQP's quarterly distributions. Distributions before 4Q15 are on a post-split adjusted basis, which CEQP completed in November 2015.
Article continues below advertisement
Crestwood Equity's revised 2016 guidance
Crestwood Equity revised its financial guidance for 2016, under the assumption that the deal will close on June 1, 2016. The new guidance assumes "five months of Crestwood's ownership at 100% and seven months of Crestwood's proportionate share of Stagecoach Gas Services' earnings of 35%." According to the deal terms, for the first three years, "Con Edison will receive 65%, 65%, and 60%, respectively, per year, of the cash distributed by Stagecoach Gas Services."
Based on the new guidance, CEQP expects its 2016 EBITDA (earnings before interest, taxes, depreciations, and amortization) to land in the range of $435 million–$465 million. At the midpoint, this would be ~10.9% and ~14.7%—less than the previous guidance announced during the 4Q15 earnings release and 2015 adjusted EBITDA, respectively. DCF (distributable cash flow) is expected to lie between $275 million to $350 million, which at the midpoint is 13.6% less than the DCF numbers in 2015.
Why Crestwood Equity rallied
You might be wondering why Crestwood Equity's stock rallied despite its distribution cut and lower EBITDA guidance. This is most likely because investors rewarded CEQP for its measures to improve its balance sheet. In the current environment, MLP investors seem to be more concerned with the rising leverage of midstream companies compared to attractive distributions. CEQP, which has been struggling with very high leverage for quite some time, has now forecasted a year-end 2016 leverage ratio of approximately 3.9x and fiscal 2016 cash distribution coverage ratio of ~1.6x to 1.8x.
Williams Partners (WPZ), Energy Transfer Partners (ETP), and DCP Midstream Partners (DPM) are among the MLPs suffering from high leverage. Notably, ETP makes up 0.03% of the Global X SuperDividend US ETF (DIV).
Moody's has meanwhile affirmed its Ba3 rating for Crestwood Midstream following these announcements. But the outlook remains negative. Crestwood Midstream is a wholly owned subsidiary of Crestwood Equity.