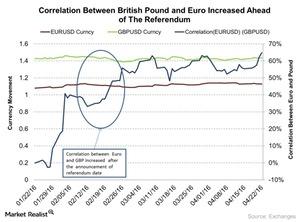 Why Is the Correlation between the Euro and the Pound Increasing?
By Sarah Sands

Apr. 25 2016, Published 3:05 p.m. ET
Correlation between the euro and the pound
The correlation between the euro (FXE) and the pound has been increasing since UK Prime Minister David Cameron announced a referendum date of June 23, 2016, for a possible exit from the European Union. In the past, the correlation was lower between these two currencies. As the referendum date draws near, the correlation between these two currencies is increasing. This shows that investors are concerned about Europe (HEDJ) (VGK) (EZU) as well as the United Kingdom (EWU).
Article continues below advertisement
Cross-currency risk is increasing
The movement of the pound is showing some weakness against the US dollar (UUP). That will most likely continue until the referendum as investors continue their short positions. On the other side, the euro is showing some weakness against the US dollar.
The two currency pairs are moving in the same direction with a relatively higher correlation. It indicates that investors are nervous about the possible impact of a Brexit on the credibility of the European Union. Britain is the financial capital of the European Union. If Britain's vote is in favor of leaving the European Union, it could impact the overall future outlook of the European Union. It also raises the question about the political stability of Europe. Political stability was one of the major factors in establishing the European Union.
For more information, you may be interested in reading Why the Upcoming Brexit Referendum Is Causing More Volatility.