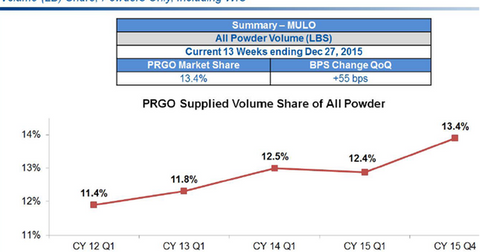 Consumer Healthcare Should Be a Key Driver of Perrigo's 2016 Growth
By Margaret Patrick

Apr. 11 2016, Updated 9:07 a.m. ET
Consumer Healthcare segment
The Consumer Healthcare (or CHC) segment, a key part of Perrigo's consumer business, is expected to account for about 45% of the company's total revenues in 2016. In 2016, Perrigo expects its CHC business to earn gross profit margins in the range of 32%–35% and operating margins in the range of 15%–20%.
Article continues below advertisement
Infant formula
Perrigo (PRGO) has targeted the infant formula category as one of the key growth drivers for the company's CHC business. With continued investment in its direct-to-consumer as well as physician marketing, expanded labels, and improved store brand packaging, the company saw a 6% revenue growth in this segment in 2015. Perrigo's volume share of the total infant powder supplied has also witnessed a gradual rise and reached 13.4% by the end of 2015.
If the overall demand for store-branded infant formula powders continues to rise in 2016, it may boost Perrigo's share prices as well as those of the SPDR S&P 500 ETF (SPY). Perrigo makes up about 0.1% of SPY's total portfolio holdings.
Other businesses
In addition to its infant formula business, in 2015 Perrigo also experienced strong demand for its allergy drugs, loratadine and cetirizine D. However, the company experienced reduced revenues for its diabetes and analgesics products in 2015.
To date, Perrigo has managed to enjoy a strong position in the nicotine replacement market due to a lack of competition. However, in 2016, Perrigo expects to experience subdued performance due to the return of a large branded competitor in the nicotine replacement segment.
Article continues below advertisement
On January 4, 2016, the company suspended sales of guaifenesin, an extended release drug belonging to the Mucinex family. According to Drugs.com, "Mucinex (guaifenesin) is used to relieve the symptoms of cough and mucus in the chest due to colds, flu, or hay fever. Mucinex may also be used for other conditions as determined by your doctor."
This drug is expected to be reintroduced in the market inthe  second half of 2016, which may affect the company's overall 2016 revenues. Other Mucinex products are, however, expected to report modest revenue and profit growth in 2016.
A milder-than-expected cough and cold season in Europe further impacted Perrigo's CHC revenues in 2015. A weak flu season has also affected over-the-counter (or OTC) revenues of other companies such as GlaxoSmithKline (GSK), Pfizer (PFE), and Sanofi (SNY) in 2015. The company, however, expects a normal season in 2016, which could boost sales of its cough and cold products.
New products
In the first half of 2016, Perrigo has planned to invest substantially in launching new products in the CHC segment. The company expects new products to contribute about $400 million in revenues in 2016.
In the next part of this series, we'll explore the various challenges faced by Perrigo's Branded Consumer Healthcare business.