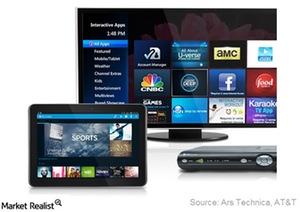 Comcast Suffers a Setback with the White House and the FCC
By Shirley Pelts

Updated
FCC's set-top box proposal
In late January 2016, the FCC (Federal Communications Commission) put forward a proposal that would give a choice to pay-TV consumers. They could either use the set-top box or cable app provided by their cable providers, such as Comcast (CMCSA) or Dish Network (DISH), or they could choose set-top boxes offered by third-party providers.
In February 2016, the FCC voted in favor of the set-top box proposal. The final vote is still some months away. However, customers and cable companies can now put forth their opinions regarding the proposal.
Article continues below advertisement
This month, the White House declared its support for the FCC's set-top box proposal in a blog post. The blog post stated, "Today the President announced that his Administration is calling on the FCC to open up set-top cable boxes to competition. This will allow for companies to create new, innovative, higher-quality, lower-cost products."
The post continued, "Instead of spending nearly $1,000 over four years to lease a set of behind-the-times boxes, American families will have options to own a device for much less money that will integrate everything they want — including their cable or satellite content, as well as online streaming apps — in one, easier-to-use gadget."
Why the FCC's set-top box proposal is relevant for Comcast
Comcast refused to comment on the FCC's set-top box proposal on its 4Q15 and 2015 earnings call. Data from the set-top box is relevant for media companies such as Viacom (VIAB), as it gives an indication of the audience demographics for television programming.
According to a Philadelphia Business Journal report citing analyst Jeff Kagan, "Set top boxes are only one slice of the pie for cable television companies like Comcast, but it has grown to be an important part," Kagan further stated, "It accounts for sizable income. Eliminating this will be a blow to Comcast."
Charter Communications (CHTR) also commented on the FCC's set-top box proposal on its 4Q15 and 2015 earnings call, stating, "We haven't seen the proposal yet, really, fully. And – but we think it's a very dynamic marketplace, and that the business is moving toward app-based display and cloud-based display. And that we'll want to work carefully with the FCC, as they attempt to change the marketplace as it currently exists."
Comcast makes up 0.82% of the SPDR S&P 500 ETF (SPY). For an investor interested in getting exposure to the communications services sector, SPY has 2.7% exposure to the sector.