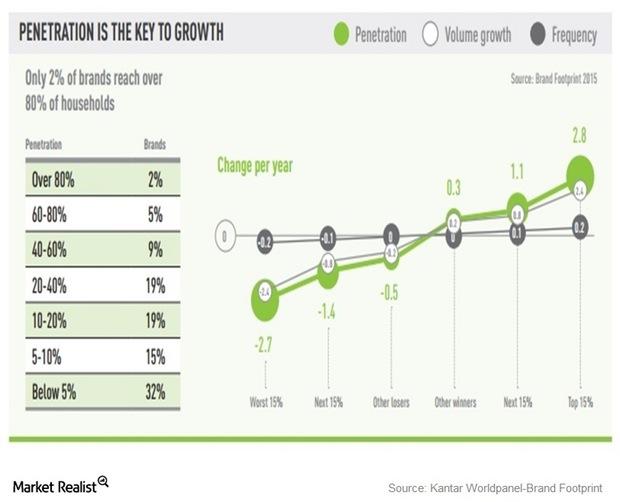 Colgate's Notion of Consumer Engagement, Brand Penetration
By Penny Morgan

Apr. 13 2016, Updated 10:05 a.m. ET
Consumer engagement
Beyond Colgate-Palmolive's (CL) innovation, the company seeks to engage consumers to build awareness of the brand. According to Kantar's Brand Footprint reports, Colgate is adding the greatest number of new shoppers among FMCG (fast-moving consumer goods) companies. Notably, most FMCGs are in India, but Colgate added 19 million new shoppers worldwide in 2014. By comparison, Downy from Procter & Gamble (PG) and Unilever's (UL) Dove added ~11 million and ~14 million new shoppers, respectively, in 2014.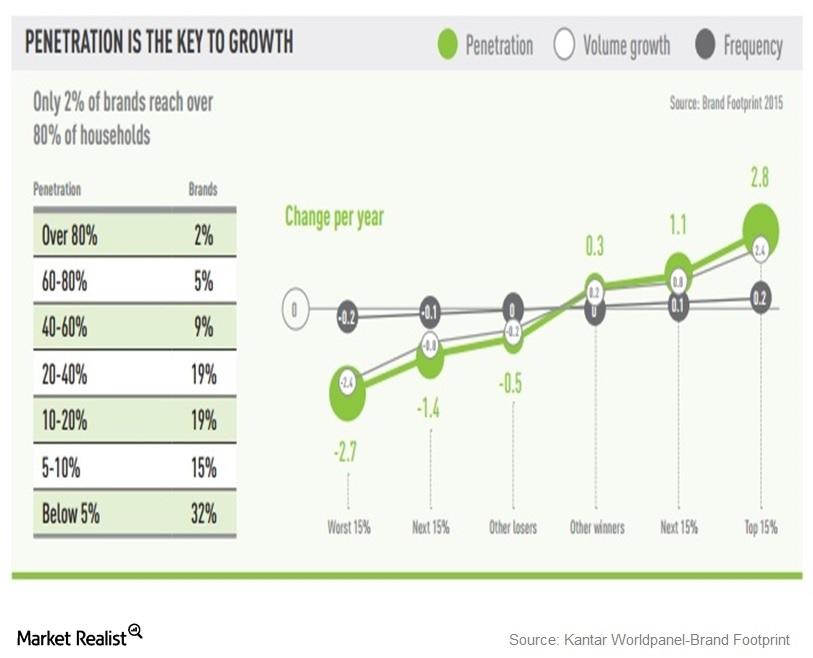 Article continues below advertisement
Colgate introduced a new program behind the effective use of water as part of its sustainability initiative. This ad got 2.3 billion impressions according to Chief Executive Officer Ian Cook, and as it was even cast during the Super Bowl, it saw a significant number of views, tweets, and retweets and has grown in market share in the US.
In-store initiatives
The company continues to focus on in-store initiatives and reductions in inventory over time. For example, Colgate took four days out of the inventory between the beginning of 2015 and the end of 2015 on a rolling 13-month basis. Other companies like Kimberly-Clark (KMB) and Clorox (CLX) are also focusing on in-store innovations. Colgate is also working hard with the support of retail partners in order to give consumers a chance to buy its product.
Colgate's SKUs are globally down 14%. Hence, the company is focusing on power SKUs on the shelf that move. The company is globally linked through SAP system, which makes sharing and tracking easy.
Global supply chain optimization
Colgate continues to optimize its global supply chain. The company holds about 57 facilities around the world. Despite the macroeconomic conditions, Colgate's focus is on simplification and the operational efficiencies that translate into sustained top-line growth and growing market share.
CL represented 0.6% of the iShares S&P 100 ETF (OEF) as of March 31, 2016. In the next and final part, we'll look at Colgate's valuation multiple.