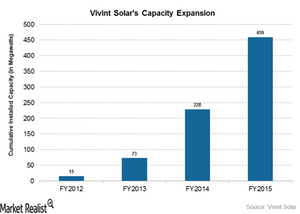 A Closer Look at Key Elements of Vivint Solar's Business Strategy
By Sheldon Krieger

Updated
Capturing market share
The downstream solar (TAN) business is all about capturing market share. Because the solar lease contracts and power purchase agreements (PPAs) lasts typically for 20 years, a company with higher market share in the mature stage will make more money than the company with less market share. Moreover, operating expenses decrease as the company reaches the mature stage, thereby increasing its margins.
The consistent business expansion is crucial for downstream solar companies like Sunrun (RUN), Vivint Solar (VSLR), SolarCity (SCTY), Sungevity, and SolarPower (SPWR).
Vivint Solar intends to expand its presence in existing solar markets and penetrate into new markets by leveraging its brand presence and customer base. On June 3, 2015, the company announced the launch of commercial and industrial offerings with $150 million in funds.
Article continues below advertisement
Cost reduction
Vivint Solar intends to lower its operating costs through investments in new technologies, internal development initiatives, acquisitions, and alternate financing options. For instance, the company acquired Solmetric Corporation, a developer and manufacturer of photovoltaic installation devices and software products in January 2014.
Solemetric had extensive expertise in solar installation business. This acquisition helped Vivint Solar to reduce its pre-installation site survey and design processing costs.
Vivint Solar's strategic partnership
Vivint Solar intends to build and leverage strategic relationships with new and existing partners to grow its business, reduce operating costs, and enhance customer experience. For example, on August 18, 2015, Vivint Solar announced its association with Google for Project Sunroof. Project Sunroof is an online tool that enables homeowners to calibrate their roof's solar energy potential and provides customized energy saving data according to customer inputs. Also, it can help homeowners to connect with local solar providers like Vivint Solar.
In addition to its direct sales channel, the company also intends to sell solar energy systems to customers through a number of distribution channels.
In the next part of our series, we'll know the key risks involved in Vivint Solar's business.