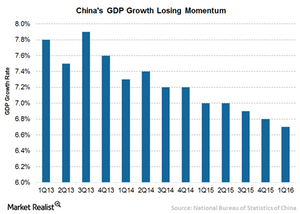 Why China's Slowdown Is the Biggest Worry in US Markets
By Peter Hayes

Updated
In this installment of "Feeling Taxed?," Peter Hayes looks at how "made-in-the-USA" municipal bonds might offer some insulation from international risk.
There are plenty of issues taxing investors today, and many of them reside beyond U.S. borders. One of the biggest worries since Day 1 of 2016: China. A slowdown in growth there has been blamed in part for the slide in oil given that China is the biggest consumer of the commodity.
Article continues below advertisement
Market Realist – The Chinese slowdown is affecting the US markets
In 2015, China's GDP growth rate dipped to a 25-year low of 6.9%. The big theme of 2015 was shifting the Chinese (FXI) economy from investment- and manufacturing-led growth to consumption and services. The latest data show that China's industrial production grew at a lower rate of just 6.1% year-over-year in fiscal 2015 compared to 8.3% in 2014. During the first two months of 2016, industrial (IYJ) production grew at its slowest pace since November 2008, 5.4%. In contrast, the services sector recorded higher growth of 8.3% in 2015 compared to 7.8% growth in 2014.
As the Chinese economy shifts its focus from the manufacturing sector to services (IYC), the demand for oil (IEZ) has also faltered. Though China's crude oil imports increased 9% in 2015 over the previous year, much of these imports were intended to build up its strategic petroleum reserves. The consumption of diesel products in China decreased 3.7% in 2015.
The sharp drop in oil prices casts a shadow over the prospect of economic recovery in China and in many countries around the world. If tepid Chinese energy consumption continues, it could cause a lot of instability in the global markets—and the United States is no exception. So investors need to be cautious as non-US factors cause a lot of volatility in US (IJH) equities, affecting overall returns.
In the next part of this series, we'll discuss how municipal bonds correlate less to global concerns.