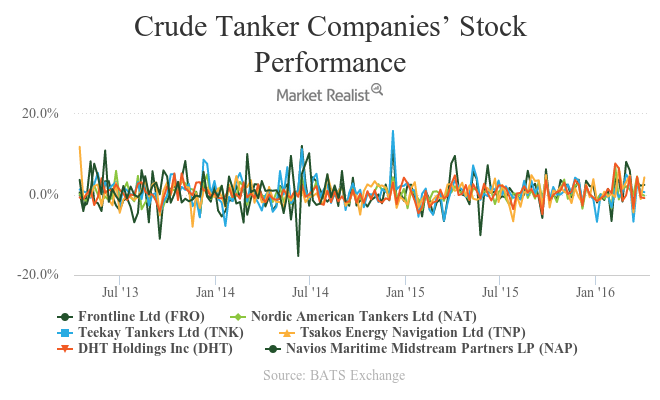 What Could China's March Data Mean for Crude Tanker Investors?
By Sue Goodridge

Nov. 20 2020, Updated 4:55 p.m. ET
China releases March data
China released its key economic data from March, including import data, auto sales data, and the manufacturing index. This data is crucial for assessing the outlook of the crude oil tanker industry. After a steep dip to a four-month low in January, crude oil imports jumped in February, which was a good sign for crude tanker investors. Auto sales had also dipped, and China's manufacturing PMI (purchasing managers' index) remained below the neutral mark for the eighth consecutive month in February. Let's see if March's data brought new hope to the tanker industry.
[marketrealist-chart id=1212716]
Article continues below advertisement
Why China is key to the crude oil tanker industry
As we can see in the chart above, crude tanker stock prices rose in 2015. The industry boomed in 2015, largely due to higher crude oil imports by China. China took advantage of lower crude oil (USO) prices and filled its strategic petroleum reserves.
China, the second-largest economy in the world, is a key factor in the crude oil tanker industry. China is the second-largest importer of crude oil after the United States. However, whereas the United States does not import the majority of its crude oil by sea, China does. This makes China's imports more important to the crude oil tanker industry. China's imports greatly influence the tanker demand rates, therefore impacting companies such as Frontline (FRO), Teekay Tankers (TNK), Tsakos Energy Navigation (TNP), Nordic American Tankers (NAT), DHT Holdings (DHT), Gener8 Maritime (GNRT), Navios Maritime Midstream Partners (NAP), and Euronav (EURN).
China (FXI) (MCHI) is a global manufacturing hub and the largest manufacturing economy in the world. China's oil demand is closely related to its manufacturing activities. Higher manufacturing activities translate to higher demand for oil, and higher demand for oil means higher tanker demand.
China's oil demand is also closely related to its gasoline usage. Over the years, China's auto industry has risen to become the largest in the world. Auto demand affects gasoline demand, which, in turn, impacts crude oil demand. This makes China the most important country for the crude tanker industry. In the next part of this series, we'll see how China's crude oil imports fared in March.