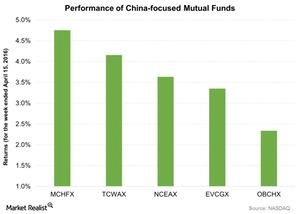 China's GDP Grew in 1Q16: How Were Mutual Funds Affected?
By Lynn Noah

Updated
Shanghai Stock Exchange Composite Index rises
The SSE (Shanghai Stock Exchange) Composite Index rose 3.1% to 3,078.1 in the week ended April 15, 2016, following a release showing that China's GDP grew 6.7% in the first quarter of 2016. Although this was slightly lower than the previous quarter's growth, data indicates that the Chinese economy is rebounding. Better-than-expected exports, industrial production, urban fixed-asset investment, and retail sales data pushed the Chinese stock market upwards.
Article continues below advertisement

The SSE Composite Index includes all stocks (A- and B-shares) listed on the Shanghai and Shenzhen stock exchanges. A-shares are denominated in the domestic currency, the yuan, and available only to local investors. On the other hand, B-shares are denominated in foreign currency—the US dollar on the Shanghai Stock Exchange and the Hong Kong dollar on the Shenzhen Stock Exchange—and are available to foreign investors.
Mark Mobius is confident about China
Templeton Emerging Markets Group executive chairman Mark Mobius said that "China is a huge, growing economy. Even if it grows at 5%, it's still incredible." Although China's demand for resources may be slow, it is still substantial.
Returns: China-focused mutual funds
For the week ended April 15, the Matthews China Fund – Investor Class (MCHFX) was up by 4.8%. The Templeton China World Fund (TCWAX), the Neuberger Berman Greater China Equity Fund – Class A (NCEAX), and the Eaton Vance Greater China Growth Fund (EVCGX) were up by 4.2%, 3.6%, and 3.3%, respectively. The Oberweis China Opportunities Fund (OBCHX) rose by 2.3%.
For the same period, American depositary receipts of Chinese tech giants such as JD.com (JD), Baidu (BIDU), Alibaba Group Holding (BABA), and 58.Com (WUBA) were up by 11.2%, 5.0%, 1.9%, and 1.1%, respectively. In the next part of this series, we'll look at China's GDP data.