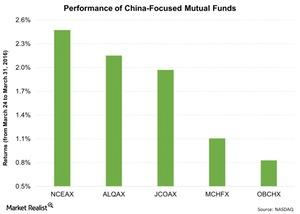 Can the SSE Composite Index's Manufacturing PMI Keep Expanding?
By Lynn Noah

Updated
Rising SSE Composite Index
The SSE (Shanghai Stock Exchange) Composite Index rose during the week of March 24–March 31, 2016, ending at 3,003.92. China's official manufacturing index expanded in March, indicating a slight recovery in the manufacturing sector following stimulus measures introduced by Chinese authorities.
The SSE Composite index was also helped by Fed Chair Janet Yellen's dovish comments on the rate hike. She said in a speech to the Economic Club of New York on March 29 that even though the US economy is improving, the central bank would move cautiously in raising interest rates due to global growth concerns and falling oil prices. With the Fed taking a cautious approach to raise rates, pressure on emerging market stocks has eased because higher interest rates in the US could result in outflows from these markets.
Article continues below advertisement
2016 Asia Development Outlook
According to the 2016 Asia Development Outlook forecasts published by the Asian Development Bank, growth in China will likely be at the lower end of China's 6.5%–7% target economic growth rate.
The Asia Development Bank's latest annual report (released on March 29) predicts a growth of 6.5% in 2016 and of 6.3% in 2017 for China. China's target economic growth rate of 6.5%–7% in 2016 and an average of 6.5% over the next five years, thus, could only be achieved with aggressive monetary and fiscal stimulus.
Why S&P cut China's outlook rating
On March 31, Standard & Poor's cut its outlook for China's sovereign credit rating to negative from stable due to slower than expected reform implementation but maintained the rating at "AA-."
Standard & Poor's said in a statement that it "revised the outlook to reflect our expectation that the economic and financial risks to the Chinese government's creditworthiness are gradually increasing." It further stated that "this follows from our belief that, over the next five years, China will show modest progress in economic rebalancing and credit growth deceleration."
At the beginning of March, Moody's had also cut China's outlook rating from stable to negative due to the persistent drop in foreign exchange reserves and the weakening of fiscal metrics.
Returns of China-focused mutual funds
The Neuberger Berman Greater China Equity Fund Class A (NCEAX) was up by 2.5% and became a top performer from March 24 to March 31, 2016.
The AllianzGI China Equity Fund Class A (ALQAX), the John Hancock Greater China Opportunities Fund Class A (JCOAX) and the Matthews China Fund Investor Class (MCHFX) were up by 2.1%, 2.0%, and 1.1%, respectively.
Meanwhile, the Oberweis China Opportunities Fund (OBCHX) rose by 0.8% during the same period. The ADRs (American Depository Receipts) of Chinese companies such as Alibaba Group Holdings (BABA), Baidu (BIDU), and JD.com (JD), in which the above mutual funds are invested, were up by 4.2%, 3.3%, and 0.5%, respectively, as of March 31.
In the next part, we'll look at China's official manufacturing PMI.