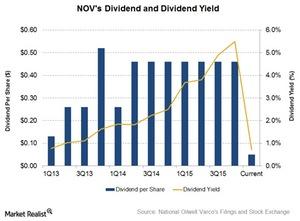 Can National Oilwell Varco's Dividend Fall More?
National Oilwell Varco's dividend reduction
On April 11, National Oilwell Varco (NOV) announced its plans to reduce the quarterly dividend to $0.05 per share. With this, the company slashed its dividend by 89% from the $0.46 per share dividend paid in the previous quarter.
Article continues below advertisement
Why it decreased the dividend
National Oilwell Varco's revenues and earnings consistently decreased in the past four quarters until fiscal 4Q15. From fiscal 4Q15 to fiscal 4Q15, National Oilwell Varco's revenues decreased 52%. Its earnings switched to a $1.5 billion loss. This led the way to the dividend cut in 2016. Clay Williams, the company's chairman, president, and CEO, commented in the press release announcing the dividend cut. He said that "We believe reducing the dividend is in the best interest of our company and our shareholders as we continue to work our way toward the bottom of this severe down cycle. Substantial decreases in 2016 E&P capital plans are driving activity levels to new record lows, resulting in significantly diminished demand for equipment and services."
Dividend and dividend yield in perspective
From fiscal 2Q14 through fiscal 4Q15, National Oilwell Varco's dividend per share didn't change. Core Laboratories' (CLB) fiscal 4Q15 dividend was 10% higher than a year ago. The dividend yield, expressed as dividend per share relative to the share price, mainly rose from fiscal 1Q13 through fiscal 4Q15 due to the fall in National Oilwell Varco's share price. From December 31, 2015, through April 18, National Oilwell Varco's share price declined 16%. Its dividend yield decreased from 5.5% as of December 31, 2015, to 0.7% as of April 18 due to the sharp cut in its dividend.
Can the dividend fall more?
The latest dividend reduction is expected to improve National Oilwell Varco's future net cash flow by ~$615 million per year. Its free cash flow increased 58% to $493 million in fiscal 4Q15 over a quarter ago. Although the cash flow from operations decreased, lower capex offset the decline in the cash flow from operations. As a result, the free cash flow increased. As of December 31, 2015, National Oilwell Varco had $5.7 billion of liquidity, including $2.1 billion in cash. It also reduced its debt by $500 million during fiscal 1Q16. So, more dividend reduction doesn't look likely, unless there's a dramatic shift in the business environment including a further crude oil price crash. National Oilwell Varco accounts for 0.06% of the SPDR S&P 500 ETF (SPY).
Next, we'll discuss analysts' forecast for National Oilwell Varco.