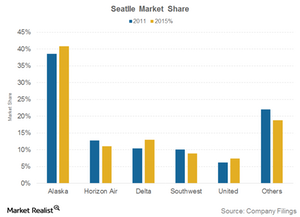 How Can the Alaska Air-Virgin America Deal Affect Delta Air Lines?
By Ally Schmidt

Nov. 20 2020, Updated 11:10 a.m. ET
Keeping Delta Air Lines at bay
As discussed in our previous article, the Alaska Air Group-Virgin America deal is expected to keep rival JetBlue (JBLU) from expanding its West Coast presence. Delta Air Lines (DAL) is also expected to be affected.
Delta Air Lines (DAL) operates nonstop flights from Seattle, Washington, to eight major cities in Europe and Asia. Instead of depending on Alaska Air to bring in connecting traffic, Delta Air Lines decided to build its transpacific hub in Seattle. Delta's Asia success depends on its success in the Seattle market, which makes the Seattle market even more important for the airline. Although Alaska Air is small, it has been a formidable opponent.
For the past few years, Delta Air Lines (DAL) has been aggressively expanding in Seattle, Alaska's main hub. In 2012, Delta operated only five of the 78 routes in Seattle. In 2015, this number has increased to 25.
Article continues below advertisement
The Virgin America acquisition is expected to make Alaska Air's West Coast presence stronger. Alaska Air Group (ALK) and Virgin America (VA) have 11% market share at Los Angeles International Airport (or LAX) as compared to Delta's 17% market share. At San Francisco International Airport (or SFO), the combination of Alaska Air and Virgin America have a 15% market share, almost double that of Delta's 8%.
Conclusion
The merger of Alaska Air and Virgin America is expected to be completed by January 1, 2017. Alaska Air last went through this process in 1982, when it acquired Horizon Air. Mergers are complex and with no recent experience on hand, the task can be a formidable one for Alaska Air Group. To learn more, please refer to Why Could the Alaska Air Group-Virgin America Merger Fail?
This means that it could be a while before Alaska Air Group can clear up the merger tangle. Delta Air Lines can use this time to strengthen its West Coast presence. Of course, Delta Air Lines has other successful routes to build upon.
Delta Air Lines (DAL) forms ~2% of the PowerShares BuyBack Achievers Portfolio ETF (PKW).