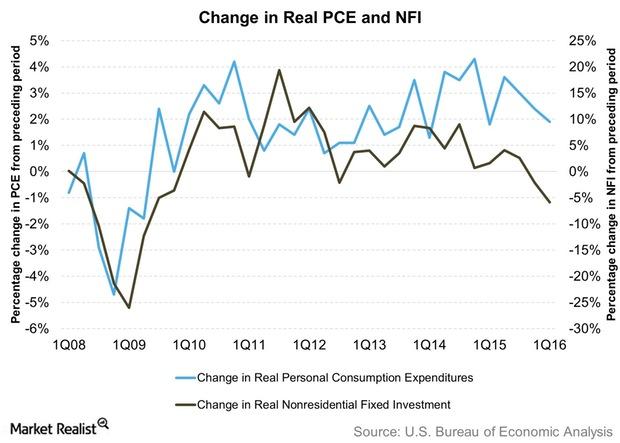 Did Business Fixed Investments Overshadow Shiny Consumer Spending in 1Q16?
By David Ashworth

Apr. 29 2016, Published 6:12 p.m. ET
Importance of consumer spending
Consumer, or household spending, is the most important component of US economic output (size-wise) because it forms over two-thirds of the total output. Not only economic growth but also the fates of companies like Coca-Cola (KO), Costco Wholesale (COST), and Proctor & Gamble (PG) are dependent on how much consumers are willing to spend. Instruments investing in these companies (XLY) (MFEGX) (VIGRX) are also impacted by a shift in trend of consumer spending.
Some components of economic output, like exports and federal government spending, have been down, thus making strong consumer spending, or PCE (Personal Consumption Expenditures) even more important in keeping the US economy growing.
Article continues below advertisement
Importance of business fixed investment
Business fixed investments are more formally referred to as "nonresidential fixed investments," or NFIs. NFI represents business spending on plants, equipment, and the machines that help companies conduct their work. NFI forms an important component in the calculation of economic output.
Specifically, NFI is important not because of its quantum in total output, but because of what it represents. Falling business fixed investments indicate that companies are not investing in plant and machinery, possibly due to worries about their profitability. This could also indicate that businesses are not very confident about economic growth gaining traction, and are thus desisting from investing further.
PCE and NFI trends
Growth in PCE was quicker in 1Q16 than it was in 1Q15. Although it slowed down from the 2.4% pace set in 4Q15, a pace of 1.9% in 1Q16 was good enough to keep the economy growing.
However, there was bad news on the NFI front. It had risen by 1.6% in 1Q15 but has contracted during the past two fiscal quarters. NFI fell by a 2.1% pace in 4Q15 and followed that up with a sharp 5.9% decline in 1Q16. This was the sharpest contraction since the second quarter of 2009, when NFI declined by 12.3%.
From the April 2016 monetary policy statement
In its April 2016 monetary policy statement, the Federal Reserve observed that "growth in household spending has moderated, although households' real income has risen at a solid rate and consumer sentiment remains high." The Fed added that "since the beginning of the year, the housing sector has improved further, but business fixed investment and net exports have been soft."
Although these rates are advance estimates and can be revised twice before we arrive at the final figure, if the final pace does remain similar to the present rate, then we may be in for a subdued year of economic growth. This, in turn, would force the Fed to remain accommodating in its monetary policies.
All that said, consumer spending will also have an impact on inflation. We'll discuss this further in the next part.