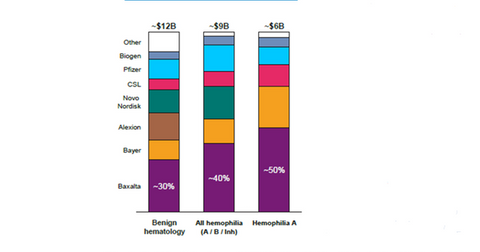 Could Baxalta Maintain Its Leadership in the Hemophilia Space?
By Jillian Dabney

Updated
Baxalta: Hemophilia market leader
Baxalta's (BXLT) hemophilia portfolio comprises Advate, Adynovate, Rixubis, Recombinate, Hemofil M, Immunate, Immunine, and Prothromplex Total. The company currently leads the hemophilia market with a ~50% market share in value terms.
Article continues below advertisement
Hemophilia portfolio
Advate, a recombinant factor VIII therapy, is used to control and prevent bleeding episodes and for perioperative management and routine prophylaxis. It prevents or reduces the frequency of bleeding episodes in hemophilia A patients.
Adynovate, another a recombinant factor VIII therapy, was launched in November 2015 in the United States. It is the extended half-life treatment for hemophilia A. Rixubis, launched in the United States in 2013, replaces the missing clotting factor IX in hemophilia B patients. Hemofil M is effective in increasing the plasma levels of antihemophilic factor in hemophilia A patients.
The hemophilia market is dominated by Pfizer's (PFE) Xyntha, Bayer's (BAYRY) Kogenate, and Biogen's (BIIB) Eloctate, along with Baxalta's Advate and Adynovate.
Baxalta's hemophilia pipeline
In its pipeline, Baxalta holds two gene therapies, BAX 335 and BAX 888, along with BAX 826 and BAX 817. BAX 888, a gene therapy, will enter the clinical study phase in fiscal 2016.
While BAX 826 is an extended half-life recombinant factor VIII therapy targeted at treating hemophilia A, BAX 817 is a recombinant factor VIIa therapy for acute bleeding episodes that occur in hemophilia A or B patients with inhibitors. BAX 335 is AAV8 (Adeno-associated virus 8) vector-based gene therapy. Phase 1 and 2 clinical trials for the drug are ongoing. BioMarin (BMRN) is designing phase 3 trials for its gene therapy BMN 270.
Baxalta anticipates launching BAX 335 by fiscal 2020 and BAX 888 by fiscal 2023. If it is successful in launching gene therapy ahead of competitors, it will enjoy a substantial competitive advantage.
To get exposure to Baxalta and control excessive company-specific risks, investors could choose to invest in the Guggenheim S&P 500 Equal Weight ETF (RSP). Baxalta accounts for 0.2% of RSP's total holdings. In the next part of this series, we'll have a look at Baxalta's immunology portfolio.