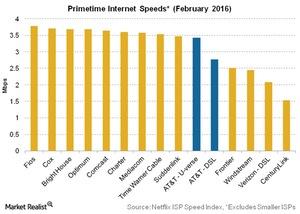 AT&T May Enhance Its Internet Speeds with G.fast
By Ray Sheffer

Updated
AT&T on G.fast
In the last part of this series, we learned about the current and planned expansion of AT&T (T) GigaPower. The fiber-based service is capable of providing Internet speeds of a maximum of 1 Gbps (gigabits per second), subject to conditions.
AT&T is looking at an option to boost Internet speeds over its copper network. According to the carrier's post a few days ago, "G.fast is a technology that can significantly boost the broadband speeds that can be delivered over existing copper lines, albeit over short distances (within 100 meters or 300 feet)."
According to AT&T, president of AT&T Technology Operations Bill Smith said that "his engineering team is now testing G.fast in the labs to see if it makes the grade."
Further, "While no field tests have been conducted yet, [Smith is] optimistic that the new technology will provide AT&T with a complementary way of bringing speeds as high as 300 Mbit/s [megabits per second] to its broadband subscribers without having to lay fresh fiber."
Article continues below advertisement
Speeds of the top US Internet service providers
Now let's look at AT&T's rankings among the fastest Internet service providers in the United States (SPY) (IVV). We'll take Netflix's (NFLX) ISP Speed Index for the United States in February 2016 as a proxy to the Internet speeds offered by these players. In this index, Netflix takes into account the primetime speeds witnessed by its subscribers.
As you can see in the above chart, among large ISPs, AT&T U-verse and AT&T DSL (digital subscriber line) received ranks of tenth and 11th, respectively, in the index for February 2016.
Meanwhile, Verizon (VZ) Fios and Verizon DSL received ranks of first and 14th, respectively. Comcast (CMCSA) and Charter (CHTR) received ranks of fifth and sixth, respectively.