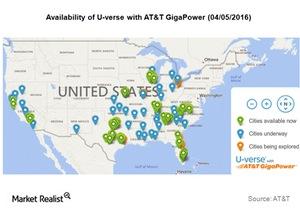 AT&T GigaPower for U-verse: The Expansion Continues
By Ray Sheffer

Updated
AT&T GigaPower
Earlier in this series, we learned that AT&T (T) is boosting its broadband proposition by initiating an unlimited data plan as well as providing larger buckets to its select U-verse Internet customers from May 23, 2016, onward.
AT&T also continues to boost its broadband proposition by expanding the markets covered by AT&T GigaPower. According to the telecommunications company's press release, the company is launching its "ultra-fast Internet service in the Los Angeles metro area."
As per AT&T, "Following our December announcement of initial availability of AT&T GigaPower in the Los Angeles area, we've made the AT&T GigaPower network available to tens of thousands of locations."
Regarding overall deployment, the press release mentioned, "AT&T GigaPower is available in 20 of the nation's largest metros areas, and we've announced plans to expand our ultra-fast Internet service in parts of 36 additional metro areas – which will total at least 56 metros served."
Article continues below advertisement
AT&T GigaPower
AT&T GigaPower is a fiber-based video, Internet, and voice service similar to Verizon (VZ) Fios. AT&T GigaPower is capable of providing Internet speeds of a maximum of 1 Gbps (or gigabits per second), subject to conditions. Note that Verizon Fios's maximum symmetrical Internet speeds are 500 Mbps (megabits per second), as per the company.
Instead of taking direct exposure to the stocks of US telecommunications players, you may consider taking diversified exposure to the space by investing in the SPDR S&P 500 ETF (SPY). SPY held a total of ~2.8% in AT&T (T), Verizon (VZ), CenturyLink (CTL), Frontier Communications (FTR), and Level 3 Communications (LVLT) at the end of March 2016.