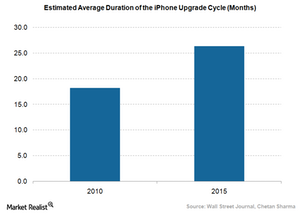 Has Apple's iPhone Upgrade Program Led to Faster Upgrades?
By Puneet Sikka

Apr. 21 2016, Updated 10:06 a.m. ET
Apple's iPhone upgrade program
In the prior part of this series, we discussed how users seem to prefer the telecom providers rather than Apple's (AAPL) retail stores when it comes to buying iPhones. A major reason for this preference arises from the attractive leasing plans offered by these telecom providers.
When Apple launched the iPhone 6S in September 2015, T-Mobile (TMUS) released a promotion offer under which its Jump! On Demand customers can get a new iPhone 6S for $5 per month by trading in their iPhone 6. Sprint (S) came up with a similar plan for $1 per month.
Apple developed its own iPhone upgrade program in September last year. Under this program, users can purchase unlocked iPhone 6S and iPhone 6S Plus devices for monthly payments of $32 and $37, respectively, from Apple's retail stores in the US (SPY).
Under this program, users are free to choose their own telecom provider. This includes all national carriers, particularly Verizon (VZ), AT&T (T), Sprint, and T-Mobile (TMUS).
Article continues below advertisement
Apple's iPhone upgrade program and the iPhone 7
The iPhone upgrade cycle seems to have increased over the last few years. According to a Wall Street Journal report citing telecom consultant Chetan Sharma, the average duration of the upgrade cycle for iPhones was 18.2 months in 2010. It has increased to an estimated 26.3 months in 2015, as the chart above shows. In theory, the iPhone upgrade program could help shorten the iPhone upgrade cycle for Apple, as it lets users upgrade their iPhones every year.
However, during Apple's fiscal 4Q15 earnings conference call, the company's management didn't seem overly confident about this program. Apple's CEO, Tim Cook, noted, "In terms of the upgrade program itself, I think over time, it will be meaningful as customers get into a different pattern. How much of that plays out in the Q1 of 2017 range is difficult to say. My own sense would be that the other items I've mentioned are probably more important but I am optimistic about the upgrade program as well."
According to Apple, only 40% of the iPhone installed base has either upgraded to the iPhone 6 or iPhone 6S as of December 2015. Thus, the iPhone upgrade program could gain popularity once Apple releases the iPhone 7 later this year when many iPhone users should be ready to upgrade their older iPhones.