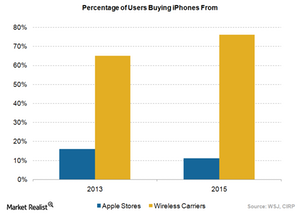 Why Is Apple Opening More Retail Stores in Emerging Markets?
By Puneet Sikka

Updated
Apple focusing on opening more retail stores in China
In the previous part of this series, we discussed how Apple (AAPL) continues to remain optimistic about China despite the country's economic slowdown. As a result of this optimism, Apple plans to open a number of retail stores in emerging markets (EEM) such as China and India. Apple had 28 stores in China through the end of 2015, but it plans to add 12 more by mid-2016.
In India, Apple had depended on subdistributors for the sale of its products until now. However, Apple has sought approval from the Indian government to open its own retail stores in India.
Apple considers India to be an important market in the coming days, as the country is now the second-largest smartphone market in the world after China. Apple's revenues in India grew by a healthy year-over-year (or YoY) rate of 38% in the quarter ended December 2015.
Article continues below advertisement
Percentage of users buying iPhones from Apple US retail stores declining
India has some positive macroeconomic factors that make it an attractive market. It is one of the fastest-growing economies with a huge young population. According to Apple's CEO, Tim Cook, "The population of India is incredibly young. The median age there is 27. I think of the China age being young, at 36, 37 and so 27 is unbelievable. Almost half the people in India are below 25. And so I see the demographics there also being incredibly great for a consumer brand and for people that really want the best products."
The focus on retail in emerging markets is big for Apple, but it's the opposite in the US. According to a report from the Wall Street Journal, citing research from Consumer Intelligence Research Partners, users are increasingly buying iPhones from telecom providers such as Verizon (VZ), Sprint (S), and AT&T (T) rather than its own stores. The above chart shows this trend. The main reason for this trend is that these providers offer consumers attractive leasing, installment plans, and exchange offers.