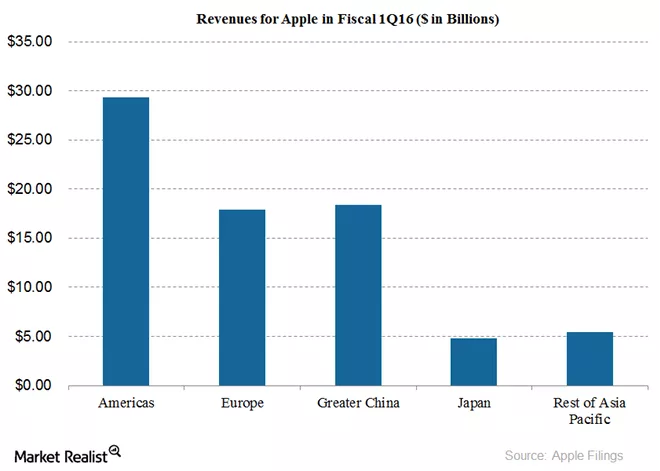 Apple iPhone Sales Expected to Fall in 2016, Rise Next Year
iPhone sales expected to fall 16 million units in 2016
Brean Capital remains bullish on Apple (AAPL). But it expects total iPhone sales to fall by 16 million units in 2016, driven by a slowdown in the global smartphone market. Brean Capital analyst Ananda Baruah reiterated a "buy" rating on Apple stock but cut its 12-month target price to $155 from $170.
Baruah projects Apple's iPhone shipments to be 216 million units in 2016. This compares to 232 million units shipped in 2015. Estimated iPhone sales in the just concluded March quarter stands at 50 million. The figure is 40 million units and 50 million units for 2Q15 and 3Q15, respectively. For the holiday quarter, Brean Capital forecasts the iPhone 7 to drive sales up to 70 million units.
In 2017, Brean Capital projects shipments of 237 million units, exceeding the 232 million sold in 2015. This would set a new record for Apple. Ming-Chi Kuo of KGI Securities expects iPhone shipments to fall below 200 million units in 2016.
Article continues below advertisement
Apple's market share in urban China falls
In 1Q16, Apple's smartphone market share in urban China fell 3.2 percentage points YoY (year-over-year) for the first time since August 2014. According to analytics firm Kantar Worldpanel, China's (FXI) domestic giant Huawei reclaimed the top spot in the Chinese market with a 24.4% share. Apple was in second place with 22.2%.
Kantar expects that iPhone SE shipments last month to China could help revive market share for Apple. Kantar wrote, "There are also significant numbers of potential buyers, particularly in China, who may not be able to afford the high price of a flagship iPhone but may find that the iPhone SE lets them take their first step into the Apple ecosystem."
China remains an important market for Apple. Analysts expect the country to overtake the United States in terms of the company's revenues. Greater China accounted for 24% of Apple's revenues in fiscal 1Q16 and is now Apple's second-largest market after the United States. Revenues from Greater China increased 14% YoY in fiscal 1Q16 and 17% YoY on a constant currency basis.
Apple accounts for 15.6% of the Technology Select Sector SPDR (XLK). The other top holdings of the ETF include Microsoft (MSFT) at 10%, Facebook (FB) at 5.6%, and Google (GOOGL) at 5.1%.
In the final part of our series, we'll see how Apple is trading compared to its moving averages.