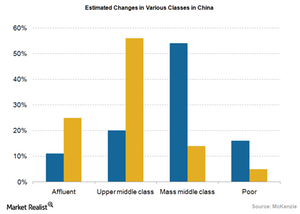 Why Apple Remains Optimistic about China
By Puneet Sikka

Updated
Apple is doing well in China despite slow economic growth
China has been an interesting economy for the last few months. The country's manufacturing sector has been shrinking over the last few months. China's overall growth also softened due to the slump in commodity prices in the last few months, as it is a massive market for commodities.
In its Asian Development Outlook 2016 report, the ADB (Asian Development Bank) projected that China's (FXI) economic growth should slow to 6.5% this year and to 6.3% next year.
Despite the slowdown, Apple (AAPL) remains quite optimistic about its growth in China. Apple's revenues from Greater China, which includes Hong Kong and Taiwan (EWT), grew at a year-over-year (or YoY) rate of 14% in fiscal 1Q16 and 47% sequentially.
This is despite the tough YoY comparison for Apple due to supply constraints, Apple was able to fulfill most of the demand for the iPhone 6 and iPhone 6 Plus in China in fiscal 1Q15 instead of fiscal 4Q14.
Article continues below advertisement
Driving factors behind Apple's optimism in China
There are a number of other drivers that is encouraging Apple to be optimistic about its growth in China. The first factor is the burgeoning middle-class population in China. According to Apple, China's middle-class population numbered about 50 million in 2010, but it is projected to reach about 500 million by 2020.
According to a report from McKinsey & Company, the percentage of the upper middle-class in China (those with incomes ranging between 106,000 Chinese renminbi and 229,000 renminbi) should rise from 20% in 2012 to 56% by 2022. The percentage of the mass middle class and the poor is expected to fall, as the chart above shows.
Another driving factor for Apple in China is the growing 4G/LTE penetration. According to Apple, China's LTE penetration was only about 25% as of October 2015, which means there are many Chinese consumers who are using 3G devices. China Mobile (CHL) is leading this transition in China, but the 4G penetration in China is still nowhere close to the numbers seen in the US.
According to Verizon (VZ), ~89% of its total network traffic was on its 4G LTE network as of October 2015. Plus, the YoY growth of traffic on this network was a significant ~75% in 3Q15.
T-Mobile (TMUS) noted that its 4G LTE network coverage now stands at around 305 million people in the United States.