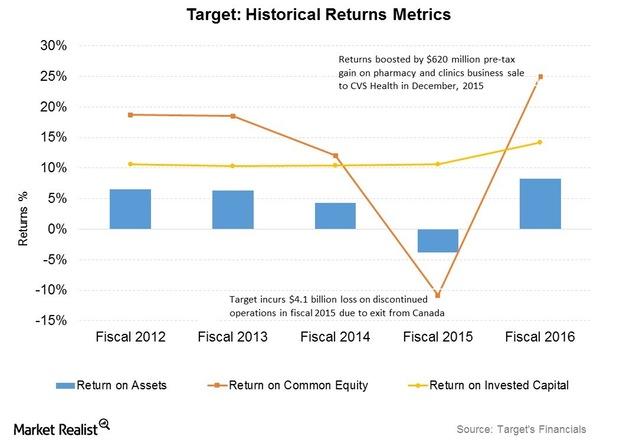 Analyzing Target's Long-Term Earnings Outlook
By Phalguni Soni

Nov. 22 2019, Updated 6:17 a.m. ET
Target's adjusted earnings per share ahead of guidance in fiscal 2016
Target's (TGT) adjusted earnings per share (or EPS) came in at $4.69 in fiscal 2016, up 11.3% year-over-year (or YoY). This was higher than the earlier guidance provided by the retailer, which envisaged a range of $4.45–$4.65 in fiscal 2016.
As discussed over the course of this series, higher sales growth and improved profitability set the stage for Target's strong results.
Article continues below advertisement
Target's EPS outlook
Target is projecting adjusted EPS in the range of $1.15–$1.25 in fiscal 1Q17. That's a YoY growth rate of 4.5%–13.6%.
For fiscal 2017, EPS is expected to fall in the range of $5.20–$5.40, a projected growth rate of 10.9%–15.1% over an adjusted EPS of $4.69 in fiscal 2016. Wall Street analysts' consensus estimate projects EPS of $5.23 in fiscal 2017, a rise of 11.4% YoY.
Over the long-haul, Target expects to grow its EPS by 10% per year. Its higher growth expectations for EPS growth relative to fiscal 2017 stem from the $3.5 billion in share buybacks it has projected for the year.
According to guidance provided by chief financial officer Cathy Smith, about half the growth rate in Target's EPS is likely to stem from improvements in the company's profitability, with the remainder of the upside coming from its program of share buybacks. Target expects to spend $3 billion on share buybacks annually after fiscal 2017, provided the "A" credit rating on its debt is maintained.
Guidance provided by Target's competitors
Walmart's (WMT) EPS is expected to fall in fiscal 2017. The foreign exchange impact of the higher US dollar is expected to take a $12 billion toll on its sales.
The largest department store retailer in the United States, Macy's (M) is projecting adjusted EPS of $3.80–$3.90 in fiscal 2017, up from $3.77 in fiscal 2016. Macy's EPS performance in fiscal 2016 also exceeded its previously announced guidance range of $3.54–$3.59.
Target and Walmart make up a combined 1.4% of the portfolio holdings of the iShares S&P 100 ETF (OEF) and 0.88% of the holdings of the SPDR S&P 500 ETF (SPY).
We'll discuss Target's returns performance in the next article.