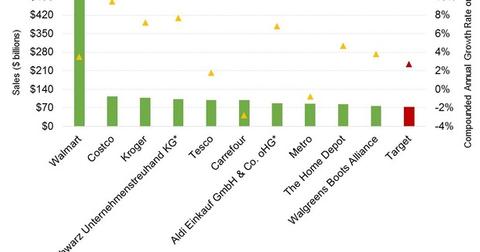 Analyzing the Investment Fundamentals of Discount Retailer Target
By Phalguni Soni

Nov. 22 2019, Updated 6:27 a.m. ET
A bird's-eye view of Target (TGT)
Minnesota-based Target (TGT) is the world's 11th-largest retailer in terms of sales, according to the National Retail Federation. Target was founded over a century ago in 1902, going public in 1967. The retailer operates 1,792 stores exclusively in the United States.
The company's stores retail a variety of merchandise including apparel, electronics, toys, food and grocery, and health and wellness. Until last year, Target also operated an in-house pharmacy business, which it sold to CVS Health (CVS) in December 2015 for $1.9 billion.
Article continues below advertisement
How does Target's historical financial performance compare to its peers'?
Mass merchandiser Target earned EBITDA (earnings before interest, tax, depreciation, and amortization) of $7.7 billion on revenue of $73.8 billion in fiscal 2016.[1. Fiscal year ended January 30, 2016] The company's top line has grown at a CAGR (compound annual growth rate) of 1.8% in the last five years, while its EBITDA has grown at a 1.9% annualized pace.
In comparison, Target's major US competitors Walmart (WMT) and Costco Wholesale (COST) have grown faster. Over the past five fiscal years, Walmart's revenue has grown at a CAGR of 2.7% to reach $482.1 billion in fiscal 2016,[1. Fiscal year ending January 31, 2016] while Costco's top line grew at a CAGR of 8.3% to $116.2 billion in fiscal 2015.[2. Fiscal year ending August 31, 2015]
Target, Walmart, and Costco together make up 3.5% of the portfolio holdings of the SPDR S&P Retail ETF (XRT). XRT provides exposure to about 100 stocks in the retail sector.
A reshaped business
Target's just coming off of a major revamp of its lines of business. It exited its loss-making venture in Canada in 2014, and it sold its pharmacies and clinics business to CVS Health last year. Target's performance in the last fiscal year has been upbeat as its management's strategies to reshape its direction have borne fruit.
In this series, we'll analyze the performance of Target's major lines of business and the growth drivers it's banking on to provide future sales impetus. We'll also analyze how the company's shareholders have fared over the years in terms of returns and the company's stock price performance.