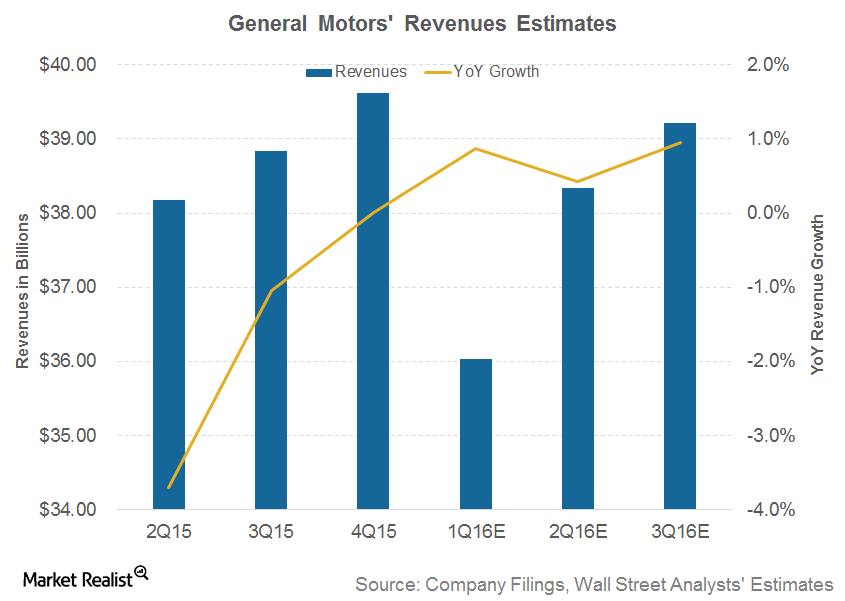 Why Are Analysts Expecting GM's 2016 Revenues to Stay Steady?
GM's 2016 revenue estimates
Analysts estimate General Motors' (GM) revenues to remain steady at $151.8 billion in 2016, about 0.4% lower than the previous year. Now, let's find out why analysts might not be expecting any major change in GM's 2016 revenues.
Along with analysts' recommendations, it's also important for investors to pay attention to these revenue estimates. They may reflect market expectations from the company. These estimates can also serve as a proxy for what might be priced into the market.
Article continues below advertisement
Minor increase in 1Q16
Analysts are estimating General Motors' 1Q16 revenues to be $36.02 billion, which represents just a ~1% increase over the corresponding quarter of last year.
Last year, the company made nearly 70% of its total revenues from North America. GM received its remaining revenues from other geographical markets, which makes it more vulnerable to foreign exchange risks. Unlike the previous quarters, the US dollar index has dropped 4.1% in 1Q16. Note that the US dollar index tracks the strength of the US dollar against a basket of currencies. The drop in the US dollar may provide temporary relief to US automakers' overseas revenues.
Negative factors for GM's 2016 revenues
As we noted earlier, analysts aren't expecting a major change in GM's 2016 revenues. Lately, the company has been implementing its strategy to cut fleet sales. While this strategy may help GM to improve its margins, it's taken a visible toll on its revenues and market share.
Also, the company's performance outside its home market hasn't been very impressive in recent quarters. GM's European revenues fell by 15.9% in fiscal 2015. Due to ongoing macroeconomic concerns, the company doesn't expect a major improvement from markets outside North America in the near term. This could be another reason why analysts are not expecting any major rise in GM's 2016 revenues.
Ford (F) and Fiat Chrysler (FCAU) also make the majority of their revenues from the US. In addition, the world's largest automaker, Toyota (TM), also has good exposure to the US auto market (XLY).
Along with revenues, it's also important for investors to pay attention to an automaker's margins. We'll take a look at GM's margin estimates in the next article of this series.