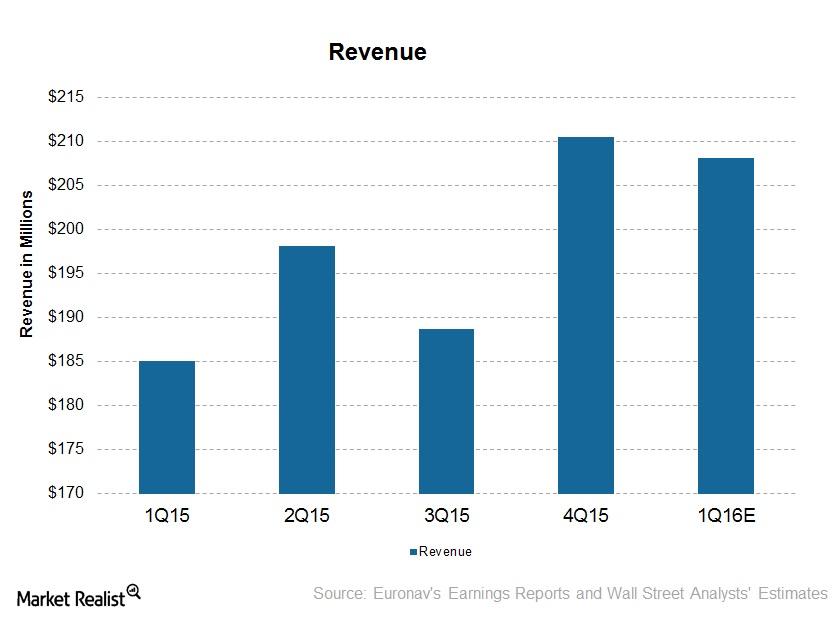 Analysts Expect Euronav's Revenues to Increase 12%
By Sue Goodridge

Apr. 22 2016, Published 1:19 p.m. ET
Revenue estimates
Wall Street analysts estimate net revenues of $208.2 million for Euronav (EURN) in 1Q16. This compares to $210 million in the previous quarter and $185 million in 1Q15. It's a 12% rise year-over-year.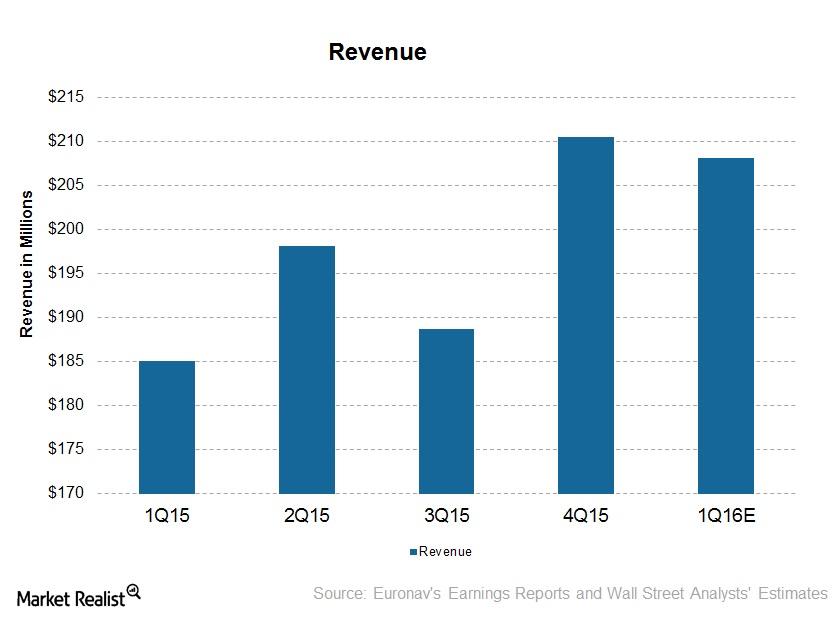 Going forward, analysts estimate 2016 net revenue to be $752 million compared to $782 million in 2015. It was an exceptionally strong year for crude tankers in 2015. Lower oil prices encouraged countries to import more oil for stockpiling. Increased crude oil (DBO) tanker demand spiked tanker rates, which hit some of their highest numbers since 2008. Tanker market fundamentals remain strong in 2016. But newbuilds entering the market in the second half of 2016 are expected to create headwinds for tanker rates.
Article continues below advertisement
Factors impacting Euronav's revenue
Euronav's revenues are impacted by tanker rates for VLCCs (very large crude carriers) and Suezmax vessels. The company operates 28 VLCCs and 22 Suezmax vessels. Only 20% of its vessels are on fixed time charter contracts. The remaining 80% are exposed to fluctuations in the spot market.
Industry tanker rates in 1Q16
According to Poten & Partners, the average VLCC rate on the benchmark route (Arabian Gulf to Japan) for the first quarter of 2016 was $56,900. That compares to $59,100 in the same period last year. It represents a reduction of 4% year-over-year. Suezmax rates took a harder hit in 2016. In the first quarter of 2016, Suezmax vessels earned an average of $26,300 per day compared to $41,500 in 1Q15. This was a significant 36% reduction.
Article continues below advertisement
A positive point
Until February 2016, Euronav had booked 46% of its available VLCC spot rates at more than $75,000 per day. It had booked nearly 47% of its available Suezmax spot days at an average of $41,000 per day. These rates are significantly higher than the average first-quarter rates.
Revenue comparison with peers
Wall Street analysts estimate a 21% year-over-year increase in Nordic American Tankers' (NAT) 1Q16 revenue. Teekay Tankers (TNK) acquired many new vessels, so analysts expect a spectacular growth of 54% year-over-year in its 1Q16 revenues. On the other hand, analysts estimate a 5% year-over-year decline in DHT Holdings' (DHT) revenue.
Investors interested in a broad exposure to industrials can invest in the SPDR Dow Jones Industrial Average ETF (DIA).