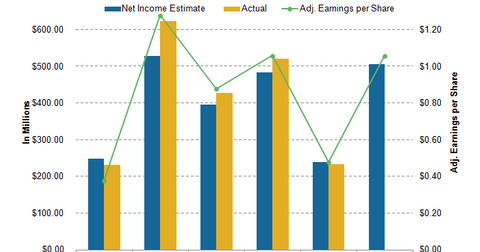 American Electric Power: Return on Equity to Improve in 2016
By Vineet Kulkarni

Updated
American Electric Power: Net income
American Electric Power's (AEP) management expects its earnings to grow by 4%–6% in the next couple of years, utilizing 2015 as a base year. Analysts expect AEP to report net income of $505 million in 2016. We will discuss the earnings drivers of AEP in this part.
Article continues below advertisement
Earnings drivers
American Electric Power's (AEP) earnings are expected to have a positive impact on its improved return on equity this year. In 2015, its consolidated return on equity of its Regulated Operations segment stood at 9.6%. Its expected return on equity of Regulated Operations in 2016 is estimated to improve to 10.1%.
AEP management's focus on expanding its Regulated Operations looks good for future growth. The company has allocated 95% of its capital budget to Regulated Operations. Moreover, half of this is expected to be spent on regulated transmission segment.
As we discussed previously, American Electric Power's earnings took a dent in 4Q15 due to poor weather and unfavorable economic factors. Its earnings per share missed analysts' expectations by about $0.50. However, it managed to grow fairly well compared to 2014. AEP's cost controls and increased spending can help grow its earnings in 2016.
AEP's divestment of generation segment
American Electric Power is in the process of turning into a pure-play regulated utility by divesting its Merchant Generation segment. This could substantially change its risk profile as its Merchant Generation segment tend to report less stable earnings. It is planning to sell 7,900 megawatts of Merchant Generation capacity, and approximately 23% of AEP's total earnings come from this segment.
Many utilities (IDU) are trying to reduce their commodity-sensitive electricity generation in the volatile commodity price environment. Last year, PPL Corporation (PPL) divested its Merchant Generation segment and formed Talen Energy (TLN).
Duke Energy (DUK) also sold its Merchant Generation to Dynegy (DYN) while Edison International (EIX) sold its segment to NRG Energy (NRG).