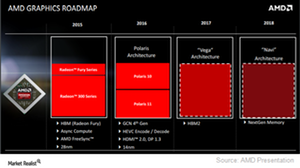 AMD's 2016 Guidance Is Opposite Analysts' Estimates
By Puja Tayal

May. 5 2016, Updated 9:06 a.m. ET
AMD's 2016 guidance isn't in sync with analysts' estimates
In the previous part of the series, we learned that Advanced Micro Devices (AMD) expects to report revenue growth of 1.6% YoY (year-over-year) in 2Q16, its first growth in six quarters. The 1.6% growth is just the start. AMD expects to pick up speed in 2H16.
AMD expects to post revenue growth on a YoY basis in 2016. This is opposite analysts' estimate of a 4% YoY fall in 2016. According to analysts, the company has high exposure in the lower-tier notebook and emerging economy PC (personal computer) markets.
The PC market is slowing more quickly than expected, and this trend has forced powerful rival Intel (INTC) to lower its guidance.
Article continues below advertisement
Growth drivers
However, several factors could play in favor of AMD and boost its revenue growth in 2016.
The company has secured three semi-custom design wins for new consoles, which could generate revenue of ~$1.5 billion over a period of three years, with revenue growth starting in 2H16.
AMD has signed a $293 million licensing agreement to form a joint venture with Tianjin Haiguang Advanced Technology Investment. The joint venture will enable China (MCHI) to develop server processors. AMD expects to gain $52 million from this joint venture in 2016. Even Qualcomm (QCOM) has entered into a joint venture to design and build server chips for China.
The company will launch its Polaris GPU (graphics processing unit) in 2Q16. The GPU should drive revenue in 2H16 and help AMD to regain its lost share in the GPU market. However, AMD could face tough competition from NVIDIA's (NVDA) Pascal GPU, which is expected to arrive sometime in 2016. The extent of revenue growth from these GPUs will be determined by the timing of their market entries and consumer adoption.
If all of the above factors deliver the desired results, AMD expects to report non-GAAP operating profits in 2H16. However, analysts believe that returning to profits in such a short span of time is an unrealistic expectation.
Technology roadmap
Over the next two years, AMD plans to launch its next-generation GPU architectures Vega and Navi. It also plans to launch Zen architecture for PCs and data centers.
AMD is also looking to tap the VR (virtual reality) market. It's working on new technologies such as the Radeon Pro Duo GPU and the AMD LiquidVR software development kit. It's also collaborating with companies across several sectors, such as gaming, entertainment, education, and media to develop VR technology in those fields.
The roadmap shows a promising future for AMD, but the desired outcome is subject to the successful implementation of the company's plans.