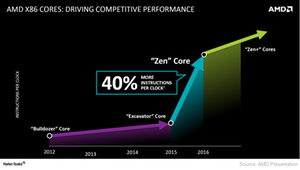 AMD Increases Efforts in the Server Space to Compete with Intel
By Puja Tayal

Updated
AMD in the server space
In the previous part of the series, we saw that Advanced Micro Devices' (AMD) EESC (Enterprise, Embedded and Semi-Custom) segment's performance was weak in 1Q16 due to seasonal weakness in the semi-custom business.
However, the company is looking to compete with its archrival Intel (INTC) in the server space, where the latter holds more than a 99% market share. Intel commands the high-margin processors market and has left the low-cost processors for AMD.
Article continues below advertisement
Intel versus AMD
AMD has licenses for both ARM and x86 architectures, but it lags behind Intel in terms of process technology. To bridge this gap, AMD, for the first time, is developing an x86 Zen architecture on Samsung (SSNLF) and Global Foundries' 14nm (nanometer) FinFET (fin-shaped field effect transistor) technology. Zen is expected to enter the market in 4Q16 and compete with Intel's 14nm processors such as Skylake.
While this may bring AMD on par with Intel, the achievement is likely to last for only a brief period of time. Intel will not remain silent, and it will challenge AMD with its 10nm processor, Cannonlake. Note that Intel is much stronger than AMD in terms of technology and has huge cash reserves.
However, one factor that's beyond Intel's control is the slowing of Moore's law. The company is introducing next-generation chips every two and a half to three years instead of every two years. This is giving rise to competition. AMD has an opportunity to catch up with Intel in terms of technology.
China is the new battleground
Challenging Intel are Qualcomm (QCOM) and AMD. They are tapping China (MCHI), the second-largest server market in the world after the United States. Qualcomm has signed an agreement with the Guizhou province to design and build server chips for China. AMD has signed a licensing agreement to enable China to build x86 servers. We'll shed some more light on this in the next part of the series.
Intel isn't far behind. It has entered into a joint research venture with Tsinghua University and Montage Technology to design server chips for China.
On AMD's 1Q16 earnings call, its president and CEO Lisa Su said, "Our strategy to improve our business by gaining share in the Graphics and PC markets, growing our Semi-Custom business and expanding into the data center market is progressing as planned."