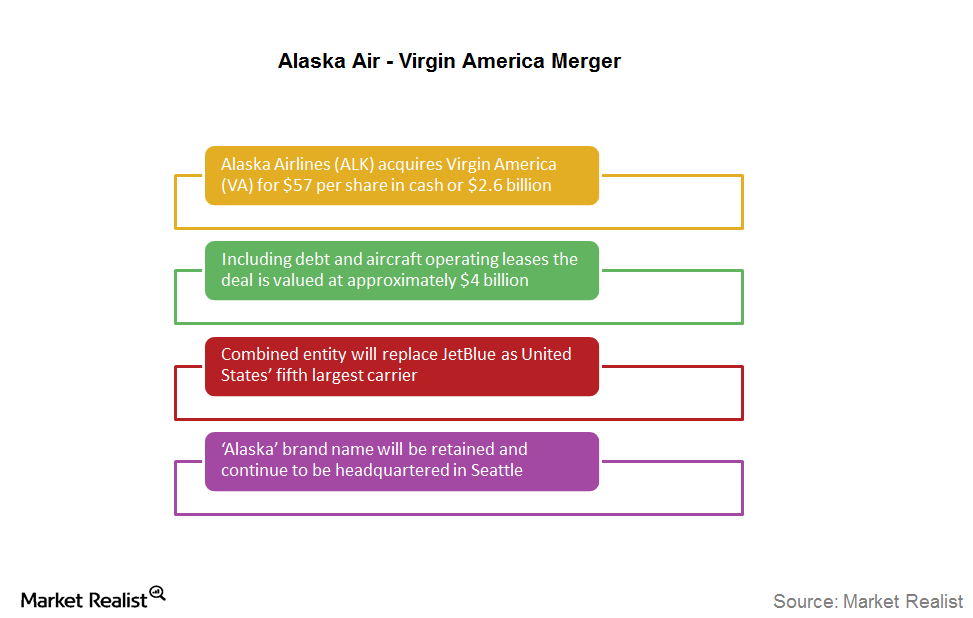 Alaska Air Group Won the Bidding War for Virgin America
By Ally Schmidt

Apr. 7 2016, Published 1:38 p.m. ET
Deal facts
On April 4, 2016, Alaska Air Group (ALK) acquired Virgin America (VA) for $57 per share in cash. This amounts to a total of $2.6 billion. Accounting for Virgin America's debt and aircraft operating leases, the deal is valued at ~$4 billion. The deal hasn't received approval from the U.S. Department of Justice yet.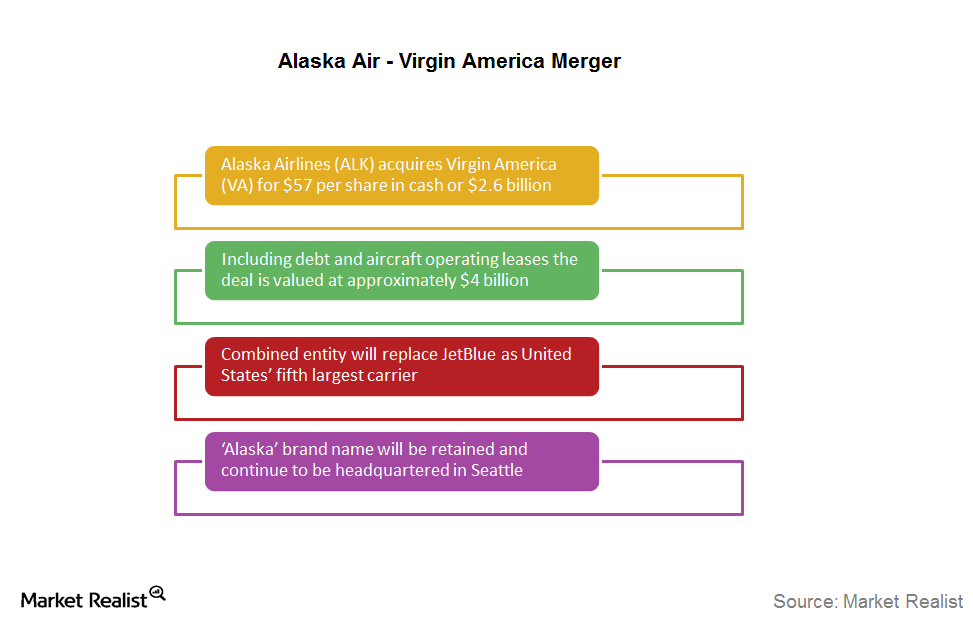 The merger will replace JetBlue as the fifth-largest carrier in the US after American Airlines (AAL), United Continental (UAL), Delta Air Lines (DAL), and Southwest Airlines (LUV). The combined entity will have an increased presence in high-growth cities such as Los Angeles, San Francisco, Washington, Seattle, and New York City.
The "Alaska" brand name will be retained. It will still be headquartered in Seattle.
Article continues below advertisement
Why JetBlue lost
According to sources familiar with the matter, there was a frenzied bidding war between Alaska Air Group and JetBlue Airways (JBLU). According to Virgin America CEO David Cush, JetBlue's final bid was "fairly close to Alaska's, not significantly below it." However, the bid specifications aren't public.
Part of the reason why Alaska Air Group managed to win over JetBlue is its strong balance sheet position. Alaska Air Group is net debt negative—it has more cash than debt. At the end of 4Q15, Alaska Air Group had $1,258 million in cash and $710 million in debt. This means net cash of $548 million.
In contrast, JetBlue is net debt positive—its debt is higher than its cash. At the end of 4Q15, JetBlue had $876 million in cash and $1,846 million in debt. This means a net debt of $970 million.
However, Alaska Air Group won't just end up paying a premium for Virgin America. It will also have to give up its financial flexibility offered by low leverage.
Alaska Air Group forms 1.4% of the iShares S&P Mid-Cap 400 Growth ETF's (IJK) holdings.
Series overview
In this series, we'll discuss whether the deal is profitable for Alaska Air Group. We'll also compare the deal to past deals in the airline industry. We'll discuss the stock prices of both Alaska Air Group and Virgin America.