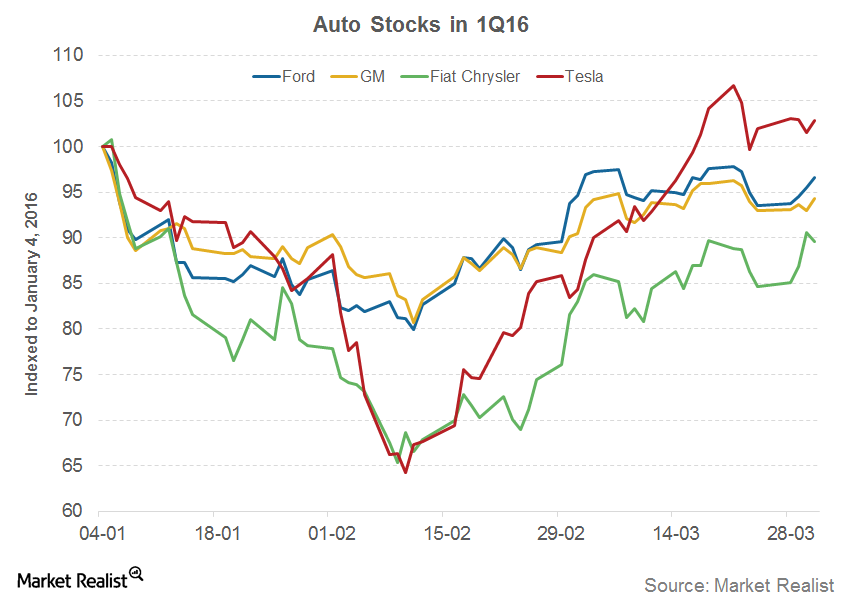 1Q16 Auto Deliveries and Automakers' Performances
US automakers and the good times
The US auto industry has witnessed good times in the past couple of years. In 2015, US auto sales were at their highest, with 17.4 million vehicles sold during the year. This certainly boosted the confidence of these automakers. However, it also ignited a debate about US auto sales being at peak levels and a possible downturn in the US auto demand going forward. Now let's look at the performances of the major automakers in 1Q16.
Article continues below advertisement
US automakers in 1Q16
In 1Q16, the S&P 500 rose 1.1% with the help of a broader market recovery in the month of March. In this period, however, the performance of mainstream US automakers was disappointing. The largest US automaker, General Motors (GM), fell ~5.7%, while Ford (F) posted a ~3.4% fall in the first quarter of 2016. GM and Ford are two of the oldest automakers in the world and share nearly the same business model. GM and Ford both make the majority of their revenues from the US market, so they're affected the worst by a possible downturn in the US auto demand.
In addition, the cyclical nature of the auto industry (XLY) is one of the reasons investors are more cautious about investing in auto companies. The last auto industry crisis in 2009 took a toll on the already debt-burdened auto companies. It caused General Motors to take a trip to bankruptcy court in June 2009.
So far this year, Italian-American automaker Fiat Chrysler Automobiles (FCAU) has led the trend of value erosion with a fall of ~10.5% year-to-date.
Series overview
In this series, we'll look at the vehicle deliveries of major US automakers. We'll also find out how Tesla (TSLA), a fairly new automaker, has progressed in terms of vehicle deliveries. Note that vehicle deliveries act as a leading indicator of an automaker's performance. So it's important for investors to track these numbers.
Let's start by looking at the Ford F-150 and whether it will continue to rule the US auto industry.