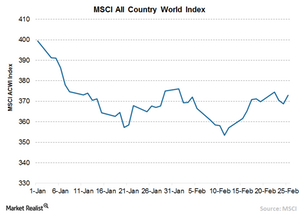 Global Equity Markets Have Fallen Steeply in the Past Year
While stocks overall still aren't cheap, investors looking to bargain hunt may be pleased to know there are certain segments of the market worth considering. BlackRock's Russ Koesterich explains.
The old saying that "things can always get worse" seems to be an apt description for markets so far this year. A poor start to the year has snowballed into an environment in which investors are being paid to "sell the rallies."
Year-to-date global equity markets are down roughly 10 percent in dollar terms, as measured by Bloomberg performance data for the MSCI ACWI Index (ACWI). While a few markets, notably Canada and Mexico, are flat to nominally higher, several market segments, including U.S. biotech, China and Italy are down more than 20 percent since the start of the year, according to Bloomberg data for the Nasdaq Biotechnology index and the respective MSCI country indices.
Article continues below advertisement
Market Realist – Steep decline in global markets
Global equity markets (EFA) have been on a rollercoaster ride for the past few months. The sharp fall in stocks last year was initially triggered by fears of a hard landing in China (MCHI), the world's second-largest economy. But the collapse in oil prices really led to the January sell-off. Declining oil prices can be a sign that the global economic growth is slowing down. Add that to excess supply, and oil has had a tough 12 months. Additionally, the selling frenzy was also due to the withdrawal of quantitative easing, which sucked up liquidity.
Clearly, the upsetting economic developments have affected global equity markets. MSCI ACWI (All Country World Index), which captures major stocks across 23 developed and 23 emerging markets, fell as low as 11.5% in 2016 though it recovered subsequently to a record YTD (year-to-date) fall of 6.6%. The MSCI World Index, which captures major stocks across 23 developed markets, reported YTD decline of 6.5%. Furthermore, the MSCI Emerging Market Index is down by 7.4% from the start of the new fiscal year.
In the emerging (IEMG) markets, the MSCI China Index has witnessed a steep fall of 15.5% while India's NIFTY fell by 11.7%. Markets like Mexico, Canada, and South Korea were relatively insulated from the equity onslaught. Canada (EWC) and South Korea (EWY) were down by 2% each while Mexico (EWW) was marginally up by 1.1%.
In the rest of this series, we'll discuss how the fall in global markets has created immense opportunities for bargain hunters. We'll also analyze the sectors and markets where long-term opportunities exist for investors.