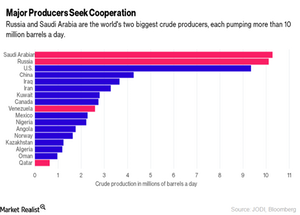 WTI and Brent Crude Oil Prices Were Trading almost Flat
By Gordon Kristopher

Nov. 20 2020, Updated 4:43 p.m. ET
Crude oil price movement 
May WTI (West Texas Intermediate) crude oil futures fell slightly by 0.2% and closed at $39.39 per barrel on Monday, March 28, 2016. Brent crude oil futures also fell by 0.4% to $40.27 per barrel. WTI and Brent crude oil prices fell for the second day in a row due to record US crude oil inventory and profit booking. ETFs like the United States Oil Fund (USO) and the ProShares Ultra Bloomberg Crude Oil ETF (UCO) fell by 0.5% and 0.6%, respectively, on March 28, 2016.
Article continues below advertisement
Easter and Good Friday holidays 
The trading session was thin due to the Easter holiday in the European markets on Monday, March 28, 2016. Reuter's data showed trading in Brent crude oil futures and options contracts was just over 73,000 lots versus the 200,000 typical in a regular session. On account of Good Friday on March 25, 2016, trading was thin in the US markets on March 24. The holidays led to a less volatile crude oil session for the past two trading sessions.
Brent crude oil prices rallied almost 50% in the last two months. US WTI crude oil prices also rallied almost 50% in the past two months. The 50% rally made oil traders hesitant about a further rally. So, traders squared off their long positions. High crude oil prices benefit oil producers like EP Energy (EPE), Matador Resources (MTDR), Warren Resources (WRES), and Bonanza Creek Energy (BCEI).
Crude oil prices rallied due to the oil producers' meeting, rising gasoline demand, slowing crude oil rig count, and expectations of slowing US crude oil production. However, Iran has been limiting the upside for crude oil prices. To learn more, read Iran's Crude Oil Production: Biggest Gain in Almost 2 Decades.
On March 28, 2016, Qatar's energy minister reported that all OPEC (Organization of the Petroleum Exporting Countries) members and major oil producers have been invited in for the oil producers' meeting on April 17, 2016, in Qatar. These countries account for about 73% of global crude oil production, so this meeting could support oil prices.
In contrast, on March 24, 2016, the International Energy Agency reported that the oil producers' meeting could be meaningless. Saudi Arabia and Russia are producing crude oil close to their peak levels. Read Why OPEC's Crude Oil Production Fell in February 2016 and Did Russia Follow the New Crude Oil Production Deal? to learn more.
The roller coaster ride in crude oil prices affects ETFs like the Guggenheim S&P 500 Equal Weight Energy (RYE), the United States Brent Oil (BNO), and the United States 12 Month Oil (USL).
This series will cover API (American Petroleum Institute) crude oil stocks, global crude oil stocks, crude oil seasonality, fund flow into commodities, and crude oil price forecast.