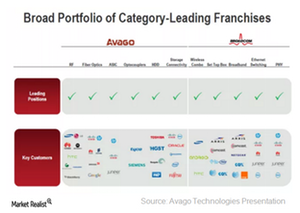 Why Wired Infrastructure Is the Next Big Thing for Avago
By Puja Tayal

Mar. 10 2016, Updated 7:06 p.m. ET
Wired infrastructure at a glance
Strong growth in the enterprise storage segment was the key factor that drove Avago Technologies' (AVGO) fiscal 1Q16 revenue. Another segment that drove the company's revenue was wired infrastructure. Before the merger with Broadcom, enterprise storage was the largest contributor to the company's revenue. After the merger, wired infrastructure will overtake enterprise storage to become the largest contributor to the combined company's revenue.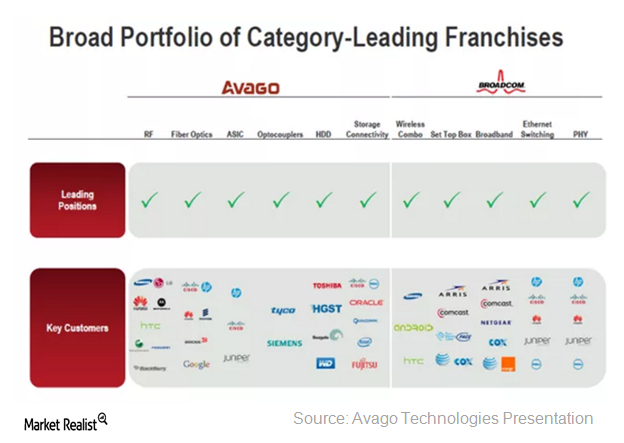 Article continues below advertisement
Financial highlights 
In fiscal 1Q16, revenue from wired infrastructure rose 11% YoY (year-over-year) to $386 million, accounting for 22% of the company's revenue. Increasing demand for fiber-optic products was offset by a decline in the demand for ASIC (application-specific integrated circuits) products due to a slowdown in data center switching.
Even Intel (INTC) reported slow growth in the data center business, attributing the weakness to a seasonal slowdown in demand from cloud customers.
Scenario in fiscal 2Q16
Now that Avago Technologies has merged with Broadcom, the wired infrastructure segment's product offerings will expand significantly. Apart from Avago's custom networking, fiber-optic, and ASIC products, the segment will include Broadcom's Ethernet switching and routing, optical standard products, physical layer copper, and standard products. It will also include Broadcom's broadband products for the set-top box, carrier access, and cable modem businesses.
With such a vast product base and growing demand from various verticals, the wired infrastructure segment is expected to account for ~55% of the combined company's total revenue from continuing operations.
Broadcom Limited expects sales of ASIC products to resume, driven by increasing demand from wireless base stations and introduction of new data center switches.
The company expects increasing deployment of fiber-to-the-home and DSL (digital subscriber line) in several regions, including China (MCHI), to drive sales of broadband carrier access.
The company expects seasonal refresh cycles with key customers in fiscal 2Q16, and the exit of STMicroelectronics (STM) from the set-top box market will help the set-top box business maintain stable revenues.
Moreover, enterprise demand for ASSP (application-specific standard parts) switching, routing, and physical layer products is increasing.
Cisco (CSCO), a leading supplier of networking and switching products, reported 2% YoY growth in revenue in fiscal 2Q16, which ended January 23, 2016. Cisco expects revenue to remain flat in fiscal 3Q16.