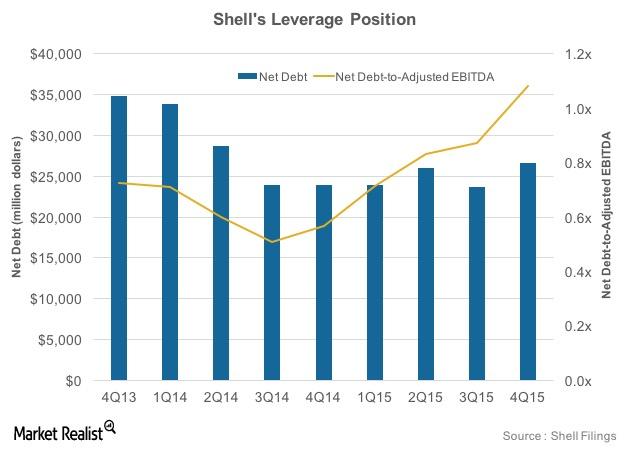 Will Shell's BG Acquisition and Divestments Affect Its Leverage?
By Maitali Ramkumar

Aug. 18 2020, Updated 6:28 a.m. ET
Shell's leverage position
Earlier, we discussed the changing segment dynamics of Royal Dutch Shell (RDS.A). In this part, we'll examine the leverage position of the company.
Royal Dutch Shell's net debt-to-adjusted EBITDA (earnings before interest, tax, depreciation, and amortization) ratio rose from 0.7x in 4Q13 to 1.1x in 4Q15. This was led by a steeper fall in adjusted EBITDA compared to a fall in net debt.
Shell's net debt fell by 24% over 4Q13 to $26 billion in 4Q15. This was led by a threefold rise in cash over 4Q13 to $32 billion in 4Q15. Total debt rose by 31% over 4Q13 to $58 billion in 4Q15.
However, Shell's net debt-to-adjusted EBITDA ratio is lower than the average of its peers ExxonMobil (XOM), BP (BP), and Chevron (CVX), which stands at 1.2x. For exposure to XOM and CVX, you can consider the iShares Russell 1000 Value ETF (IWD). The ETF has ~13% exposure to energy sector stocks.
Article continues below advertisement
Shell's cash position
Shell has acquired BG Group in a deal worth $54 billion, of which around $19 billion is in cash consideration. Shell's high cash levels in 4Q15 were to fund the cash portion of the BG acquisition deal. With the acquisition being effective as of February 2016, Shell is likely to have witnessed a huge reduction in cash reserves.
Going forward, what will Shell's net debt depend on?
Apart from cash reserves, Shell's net debt will depend on the company's ability to repay debt. With $30 billion in divestments in sight, the company could use the proceeds to repay a portion of its debt.
At the same time, if oil prices strengthen, the company's cash position will likely improve. By then, operational synergies from the BG acquisition and cost reduction initiatives would also have likely yielded results.
How will this affect Shell's leverage?
Putting this together, while Shell's leverage curve will likely rise in the short term, the evolution of its long-term leverage curve will depend on the success of its asset divestments, synergies from the BG deal, and the crude oil price level going forward.