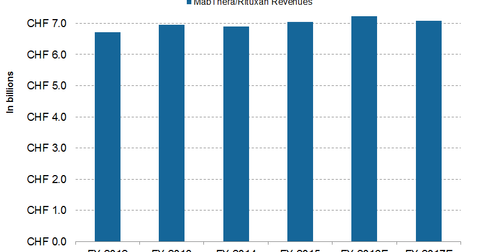 Will Gazyva Be able to Replace Roche's MabThera?
By Jillian Dabney

Updated
MabThera, a key product for Roche
MabThera is branded as Rituxan in the US and Japan. It's indicated for blood cancers, including NHL (non-Hodgkin lymphoma), follicular lymphoma, chronic lymphocytic leukemia, rheumatoid arthritis, and certain types of vasculitis.
During 2015, MabThera fetched ~7 billion swiss francs, or about ~$7.1 billion, for Roche Holding (RHHBY) and proved to be the largest revenue contributor at ~14.6% of the company's total revenue. The drug's sales grew in particular for the treatment of rheumatoid arthritis and vasculitis.
The drug is expected to face biosimilar competition in Europe in the later half of 2017. In Europe, the drug has already lost the patent protection, whereas in the US, it will expire in 2018, which will likely lead to a fall in revenue from the drug after 2018.
Article continues below advertisement
Companies such as Pfizer (PFE), Teva Pharmaceutical Industries (TEVA), and Merck & Company (MRK) are in a race to launch a biosimilar for the global blockbuster drug. Notably, Merck terminated its development of MK-8808 for follicular lymphoma while Teva stopped development of its biosimilar TL011 as well. Pfizer is conducting a Phase 3 study of PF-05280586, which should be completed by May 2017.
How can Roche offset the potential fall in its blockbuster drug?
Roche is trying to replace MabThera with Gazyva because MabThera will soon lose its patent protection. By contrast, Gazyva had a breakthrough therapy designation and was approved for the indication of CLL (chronic lymphocytic leukaemia) in the US in 2013, followed by approval by the EU in 2015.
More recently, the drug was approved by the US FDA "in combination with bendamustine chemotherapy followed by the drug alone for follicular lymphoma not responding to a Rituxan containing regimen." Follicular lymphoma is the most common type of indolent NHL (non-Hodgkin lymphoma).
Article continues below advertisement
Label expansion of Gazyva
Gazyva earned 128 million swiss francs, or almost $130 million, in 2015. The company is following label expansion studies for Gazyva so that it can expand the target population for the drug. The studies being conducted now are Goya and Gallium for the indication of the first line diffuse large B-cell lymphoma and first-line indolent NHL (1L iNHL), respectively. The study outcomes are expected by 2017 and 2018, respectively.
Industry-specific factors such as pricing pressure, patent expiries, volume uptake results in stock price volatility. To get exposure to Roche Holding while controlling such excessive company-specific risks, you can invest in ETFs such as the Vanguard FTSE All-World Ex-US Index Fund (VEU). Roche accounts for 1.03% of VEU's total holdings.