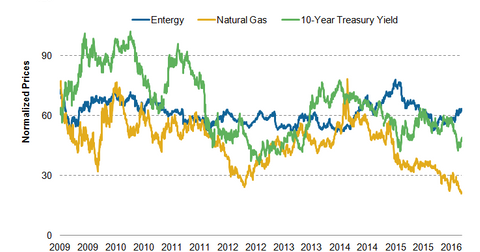 Will Entergy Be Driven by Gas Prices or Interest Rates in 2016?
By Vineet Kulkarni

Mar. 16 2016, Updated 8:04 a.m. ET
Correlation coefficient
Natural gas prices and interest rates are a couple of the factors that drive the performance of utilities. The wholesale power business of utilities is heavily affected by natural gas prices, as merchant power prices are based on natural gas prices.
Entergy (ETR) derives nearly 25% of its total income from wholesale operations. It has substantially reduced its dependence on this segment for earnings. As a result, it is less vulnerable to natural gas prices than it was a couple of years ago. The correlation coefficient between Entergy and natural gas prices is 0.22.
Article continues below advertisement
Correlation with interest rates
The correlation coefficient between Entergy and the ten-year Treasury yield stands at 0.31. The slightly positive correlation suggests that the possible increase in interest rates may not be as negative for Entergy as it is for many other utilities. Higher interest rates are considered negative for utilities as they comprise a capital-intensive sector and may have to spend more on debt servicing. Also, higher rates make bond yields (BND) more attractive than utilities (IDU).
Bottom line
Entergy's intention to sell non-performing nuclear power plants is surely a welcome move as it reduces its exposure to the risky wholesale business. The proceeds from these sales could bolster Entergy's regulated operations. A focus on expanding its regulated asset base could bring stability to its earnings and dividends. FirstEnergy (FE) and Exelon (EXC) are also strengthening their regulated operations to improve their risk profiles.
Entergy has released its 2016 guidance, which places earnings at between $4.95 and $5.75 per share. It earned $6 per share in 2015. The poor outlook for natural gas prices may have weighed on the company's 2016 earnings guidance.