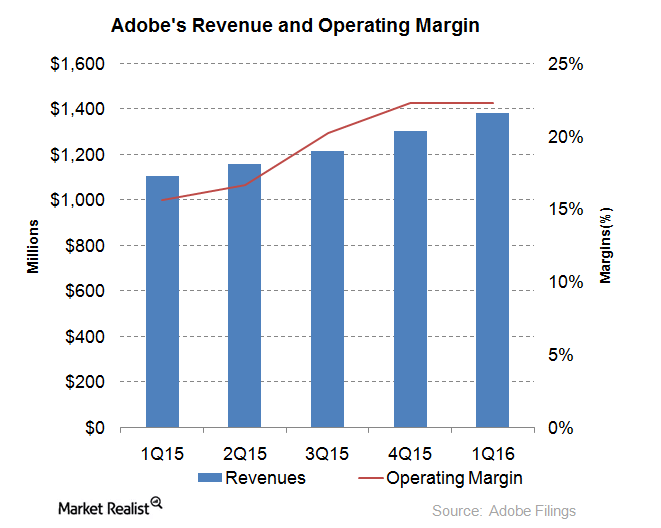 What's the Story behind Adobe's Net Income Growth?
By Anne Shields

Mar. 29 2016, Published 2:19 p.m. ET
Increased cloud offerings
We recently analyzed Adobe's (ADBE) fiscal 1Q16 earnings, which the company announced on March 17, 2016. As expected, both Adobe's revenues and earnings beat analyst expectations. Fiscal 1Q16 also marked the tenth consecutive quarter that Adobe's earnings topped market expectations.
Adobe's Digital Media segment's revenue rose by 33% to $932 million due to better-than-expected growth in Creative Cloud subscriptions. Adobe's Digital Marketing segment grew by 14% to $406.2 million in fiscal 1Q16 on the back of a 21% increase in Marketing Cloud revenue.

Article continues below advertisement
Creative Cloud, Marketing Cloud, and Document Cloud performance in fiscal 1Q16, which are Adobe's primary three cloud computing segments, show that the company's transition toward a subscription business model has been successful. Salesforce.com (CRM) is another company that saw subscription and support contribute largely—by 93%—to overall revenue.
Adobe's contribution from subscriptions surged to 77% in fiscal 1Q16—compared to 64% in fiscal 1Q15. Adobe stated that 81% of its revenue in fiscal 1Q16 was recurring. Adobe's subscriptions include software, selected services for file sharing and publishing, and access to Apple (AAPL) iOS and Google (GOOG) (GOOGL) Android apps.
Triple-digit growth in 1Q16
Adobe's revenue grew by 24% to reach nearly $1.4 billion in fiscal 1Q16, but it was net income that really deserves mentioning. Adobe's operating margin improved to 22.3% in fiscal 1Q16 from 15.6% in fiscal 1Q15, as you can see in the graph above. Efficient control over its operating expenses, primarily sales, and marketing (or S&M) and general and administrative (or G&A) expenses, led to an expansion in Adobe's margins. Adobe's net income grew by a whopping ~200% to $254.3 million in the quarter. In fiscal 4Q15, too, the company's net income grew by 153% to $222 million.
If Adobe manages to continue the present trend of improvement in its revenues and operating margins, as you can see in the above graph, its stock and stockholders will significantly benefit. Notably, Adobe accounts for 0.24% of the iShares Core S&P 500 ETF (IVV). For investors interested in exposure to application software, IVV has an exposure of 8.5% to the sector.
Now let's take a look at share buybacks in the industry in 2015.