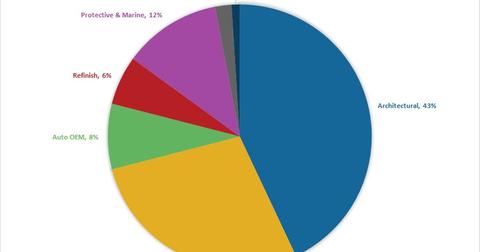 What's Really Driving Trends in Automotive Coatings?
By Shannon Black

Updated
Factors driving automotive coating sales
As seen in the graph below, the automotive end market constituted close to 14% of the demand in coatings segment of specialty chemical industry (VAW) in 2014. While auto OEM (original equipment manufacturers) refers to coatings applied during the unit's production, refinish refers to repainting an existing vehicle as either a part of repair work or the specific style requirements of a consumer. OEM refers to original equipment manufacturers who produce parts for another company's products. Automotive OEM coatings sales largely map trends in total automotive production across the globe.
Article continues below advertisement
Refinish sales, on the other hand, are driven by the increasing instances of road accidents, by vehicle customization, and by sales of recreational vehicles such as trailers. Asia-Pacific is still the largest market for automotive coatings, with China and India dominating the region due to the large fleet of vehicles in each country. In fact, due to increasing used car sales, the rise in cab services, and rising disposable incomes, collisions, and body shops, this region accounted for more than 35% of the worldwide demand for refinish coatings.
Other trends shaping the automotive coating industry
According to a study conducted by PPG Industries (PPG), 60% of car consumers considered color as a major factor in buying decisions. Players such as Axalta Coatings Systems (AXTA) conduct a considerable amount of research to understanding consumer preferences. This segment is also being shaped by increasing environmental regulations that call for lower VOCs (volatile organic compounds) in water-based solutions and powder coatings.
Companies have also been innovating in order to increase productivity and reduce costs by looking at ways to decrease the number of coats necessary, which has conventionally been about four. Meanwhile, technologies for improving cycle performance by reducing dry times continues to occupy the research and development budgets of major specialty chemical (XLB) coating companies such as RPM International (RPM).
Continue to the next part for a closer look at the role of specialty chemicals in electric cars.