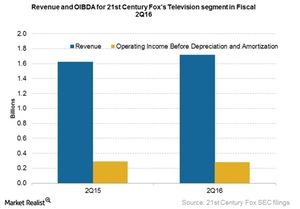 What's Really Driving Growth for 21st Century Fox's Television Segment?
By Shirley Pelts

Dec. 4 2020, Updated 10:53 a.m. ET
FOXA's Broadcast Television segment
Twenty-First Century Fox's (FOXA) revival of The X-files television show has proved to be a success for the company. During the company's fiscal 2Q16 earnings call, FOXA's management stated that the show drew an audience of 21 million, surpassing "the original series most watched season ever." Globally, the television show had an audience of 50 million viewers.
The company is producing 36 series, including 16 new series in the "forecast season." FOXA believes that its "ability to create, own and monetize hit content" for its television segment will drive long-term value for its shareholders.
Article continues below advertisement
In fiscal 2Q16, as the chart below indicates, Fox's Broadcast Television segment saw revenues of $1.7 billion, up by 6% year-over-year, with segment OIBDA (operating income before depreciation, and amortization) of $279 million. Revenue growth for this segment was driven by higher retransmission consent revenues and "low double-digit" ad revenues growth at the company's Fox network. The company expects a double-digit gain in retransmission consent revenues in fiscal 2016.
Retransmission consent revenues for Fox's peers
When it comes to the retransmission revenues, most of the companies in the media sector expect retransmission consent fees to rise in fiscal 2016. Comcast (CMCSA) saw retransmission revenues of $535 million in fiscal 2015 and expects its retransmission revenue to be about $800 million in 2016.
The Walt Disney Company (DIS) also expects a growth in its retransmission consent fees in fiscal 2016. In contrast, CBS (CBS) expects revenues from retransmission fees and "reverse compensation" to be about $1 billion in fiscal 2016 and more than $2 billion by 2020. CBS makes up 0.7% of the SPDR S&P 500 ETF (SPY). For investors interested in exposure to computers, SPY has 3.9% exposure to the sector.
Advertising revenues and rising expenses
For FOXA's Broadcast Television segment, a majority of its revenues comes from advertising. In fiscal 2Q16, the company's Fox network had higher prime time ratings in the season to date. In fiscal 2Q16, the company's scatter advertising time slots for the Fox network in the US were sold at a 20% premium compared to advertising upfronts.
However, in fiscal 2016, the company expects higher Television segment expenses due to substantial costs for sports telecasting rights and higher marketing expenses. These marketing costs are related to the premieres of ten new series scheduled for the Fox network.