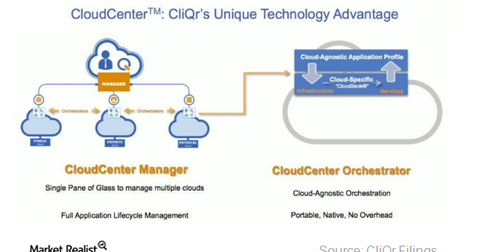 What's Cisco Really Targeting with Its CliQr Acquisition?
By Anne Shields

Updated
Cisco's initiatives to capture cloud orchestration space
Cisco System's (CSCO) latest acquisition of CliQr Technologies in the hybrid cloud space has solidified the company's position in the cloud orchestration space, which refers to the combination and coordination of workload flexibility and mobility between a customer's private cloud and other public clouds. Cloud orchestration is an integral part of hybrid cloud space because cloud providers find it challenging to ensure safe and secure mobility of workloads between different on- and off-premise private and public cloud infrastructures.
Article continues below advertisement
Apart from the CliQr's acquisition, Cisco's focus on cloud orchestration became apparent when the company announced its entry into hyper-convergence space with HX Data Platform. This represents the company's first offering in the new HyperFlex systems suite, which unifies computing, network, and storage, and enables customers to access the benefit of hyper-converged infrastructure. VMware's (VMW) EVO: RAIL and ScaleIO (EMC) are some other offerings in the hyper-convergence space. ScaleIO is a server-side storage software developer, which EMC acquired in 2013.

Hyper-converged storage is a software-based infrastructure system that combines compute, network, virtualization, and storage technologies into a hardware that is managed by a single vendor. The concept of hyper-converged storage came from converged storage, wherein the vendor provides pre-configured hardware and software in order to mitigate interoperability issues.
Cloud expected to account for 83% of data center traffic by 2019
According to the Cisco Global Cloud Index, total data center traffic is expected to reach 10.4 zettabytes in 2019 from 3.4 zettabytes in 2014. Cisco shared that CliQr would be integrated into its data center solutions portfolio. Data center traffic from the cloud will account for 83% of the total data center traffic in 2019, compared to 61% in 2014. CliQr's technology is already integrated with Cisco's ACI (Application Centric Infrastructure) and UCS (Unified Computing System). Cisco intends to integrate CliQr with its other data center switching and cloud solutions to benefit from huge growth expected in this space.
As a leader in hybrid cloud space, IBM (IBM) also has a deep-rooted interest in the cloud orchestration space. VMware's vRealize cloud management suite, which is a cloud management platform specifically built for the hybrid cloud, also operates in this space.
Investors looking to gain exposure to Cisco Systems can consider investing in the iShares Core S&P 500 ETF (IVV), which has an exposure of ~7.5% to application software and invests ~0.8% of its total holdings in Cisco.
In the next and final part of this series, we'll explore the possibility that companies like Cisco in the cloud space may be on an acquisition spree.