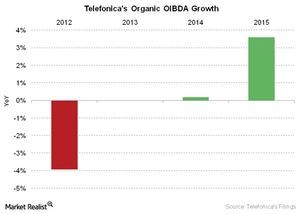 What's the 2016 Outlook for Telefónica?
Telefónica's 2015 results
Geographically diversified, integrated telecom player Telefónica (TEF) reported its 2015 results on February 26, 2016. The telecom player's revenue figure was ~47.2 billion euros for the year.
Organically (taking out the impact of currency, mergers and acquisitions, asset sales, and other one-off items), the company's revenue rose ~4% YoY (year-over-year) in 2015. Note that earlier in 2014, this growth metric was at ~2.6%.
Article continues below advertisement
In terms of OIBDA (operating income before depreciation and amortization), the organic YoY growth figure for Telefónica was ~3.6% in 2015 compared to ~0.2% in 2014. The telecom company's OIBDA was ~11.4 billion euros in 2015. On an organic basis, as per the company, its OIBDA margins contracted by ~0.1% to reach ~31.6% in 2015.
Telefónica's expectations for 2016
Telefónica anticipates minimum revenue growth of 4% in 2016. Note that as per the company, this growth is expected based on a figure of ~46.8 billion euros for 2015. YoY, it expects its OIBDA margins to be stable during 2016. In addition, its guidance on capital expenditure is at ~17% of revenue for 2016.
As per the company, its 2016 figures exclude the YoY impact of currency with respect to average rates in 2015, and the above figures incorporate certain other adjustments. They also don't take the results of Telefónica Venezuela into account.
Additionally, Telefónica's 2015 figures incorporate the results of GVT (Global Village Telecom) in Brazil and DTS (Distribuidora de Televisión Digital) in Spain from May 2015.
Instead of taking direct exposure to TEF, you can take diversified exposure to the telecom company and some of its peers in Europe by investing in the iShares Exponential Technologies ETF (XT). The ETF held a total of ~2% in Telefónica, Vodafone (VOD), Deutsche Telekom (DTEGY), and Orange (ORAN) at the end of 2015.
In the next parts of the series, we'll look at the performance of Telefónica in 4Q15. Specifically, we'll cover some of the key markets of the company, including Spain, Germany, Brazil, and Hispanic America.